Safari Sevens Rugby Tournament
Don't miss to attend a Safari Sevens Rugby Tournament while on your vacation in Kenya. The Safari Sevens is an annual rugby sevens tournament held in Kenya.
---
The tournament is run by the Kenya Rugby Football Union. The competition is one of Africa's largest sevens tournament, and is contested by Kenya as well as numerous other nations and club teams. The competitionis traditionally held at RFUEA grounds, Nairobi.
Considered Africa's premier 7 a side tournament, the 'Safaricom Sevens' gives the rugby enthusiast an opportunity to enjoy extensive competition whilst immersing themselves in the distinctive Kenyan culture.
With Kenya known throughout the IRB 7s fraternity as having the most fun loving and raucous supporters, the 'Safari Sevens' is played out in a awesome intimate carnival atmosphere rivalling  other destinations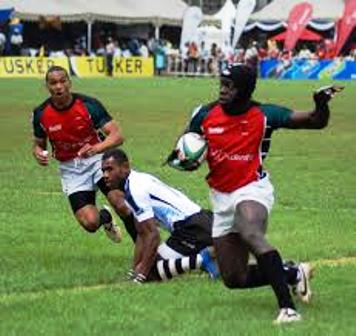 Some Other Places of Tourism Attractions 

Nguni Nature Sanctuary
› |
Ngomongo Village Mombasa
› |
Mamba Village Mombasa
› |
Jain Temple
› |
Adventure in Kenya
› |
Night Clubs
› |
Fishing and Diving
› |
Gedi Ruins
› |
Hallers Wildlife Park
› |
Karen Blixen Museum
› |
Northern Region Destinations
› |
High Mountains Destinations
› |
Kenya Mountains and Hills
› |
Kenya Ocean Beaches
› |
Tour Destinations Eastern Kenya Destinations
› |
South Rift Circuit Tour Destinations
› |
Western Kenya Tourist Points
› |
Kenya Top Tourist Destinations
› |
Kenya Wildlife Weddings
› |
Kilimanjaro
› |
Kilwa Beaches
› |
Lake Turkana
› |
Lamu Cultural Festivals
› |
Lamu Maulidi Festivals
› |
Lamu Town Destinations
› |
Lamu Town Hotels
› |
Lewa Marathon Festivals
› |
Loroghi Hills
› |
Watamu Beaches
› |
Malindi Beaches
› |
Maralal Camel Derby
› |
Maralal Wilderness
› |
Mombasa Fort Jesus
› |
Mombasa North Coast Beaches
› |
Mombasa South Coast Beaches
› |
Mount Kenya
› |
Mt Elgon
› |
Mount Longonot
› |
Nairobi Giraffe Centre
› |
Nairobi National Museum
› |
Rhino Charge Festivals
› |
Safari Sevens Rugby Tournament
› |
Shedrick Elephant Orphanage
› |
Shimba Hills
› |
Southern Kenya Tourist Attractions
› |
Swahili Coast
› |
Taita and Chulu Hills
› |
Tana River Delta Destinations
› |
---