Mt Elgon Kenya
Rising from the jungles that border Uganda, Mt Elgon is an impressively craggy extinct Volcano. This remote region makes for interesting trekking through deep forest and across broad moorlands.
Mount Elgon is an extinct shield volcano on the border of Uganda and Kenya, north of Kisumu and west of Kitale. The mountain's highest point, named "Wagagai", is located entirely within the country of Uganda.
Mt. Elgon is located 420 kms from Nairobi. Access is via tarmac road to Kitale, branch to murram road then to the Chorlim Gate.
Mount Elgon is a popular destination for nature lovers providing an exclusive domain for backpackers with numerous birding trails
---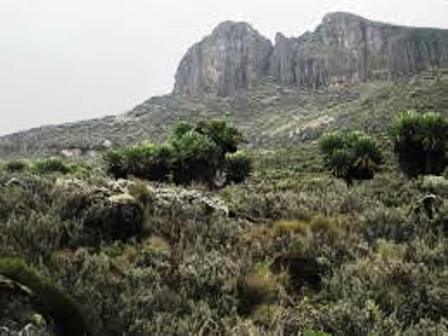 There is plenty of wildlife and plenty to discover. The peaks are ideal for climbing, and shelter a series of warm geothermal springs.
The mountain has many caves for the visitor explore. In these caves, known collectively as Elkony, ancient cave paintings decorate the walls, and bats and rock hyrax are found among the winding passageways.
The most famous cave of all is Kitum, where each night Elephant herds gather and begin a slow procession deep into the mountain.
The elephants make their way through the caves, following well worn paths made by generations before them. Deep in the cave, they use their tusks to excavate the walls, seeking the natural salt which they lick from the scarred rock.
Witnessing this incredible sight is just one of the many wonders of Elgon....
Getting There and Getting Around
Main road access to Mount Elgon is via Kitale. Elgon's remote location makes private transport advisable.
Other Related Pages
<
Mount Elgon
|
Kenya Mountains and Hills guide
|
Loroghi Hills
|
Mount Kenya
|
Mt Longonot in Kenya
|
Shimba Hills in Kenya
|
Taita and Chyulu Hills
|
---