Masai Mara National Reserve Kenya
The Masai Mara National Reserve in southwest Kenya is Africa's most favoured safari destination. One of the most spectacular annual events at the reserve
The Masai Mara National Reserve is located in Kenya, Narok District, having the County Council of Narok as a custodian.
It is about 270 kilometers from Nairobi, and takes about 4 to 5 hours by road. There are also scheduled flights, twice daily from Wilson Airport Nairobi, which take about 40 - 45 minutes.
It is named after the native tribe - The Maasai People and the Mara River, which runs across the Reserve.
Masai Mara is placed on a large plain and has 158 beds distributed among rooms that vary in style and dimensions.
The Mara Triangle consists of the western third of the Maasai Mara National Reserve. Its stretches from the edge of the Siria (Oloololo) Escarpment south to the Tanzanian border and east to the Mara river.
Its is famously known as the SEVENTH WONDER OF THE WORLD for its wildebeest migration to and from the Serengeti park southwards to Tanzania.
This makes it the best area to see the Wildbeest Migration as the animals migrate across the crocodile infested Mara river in there thousands, and still remains the favourite tourist attraction for the Maasai Mara and Kenya alike.
 The Mara Reserve currently has 5 entry gates with major and rife plans to construct a sixth gate soon.
The Main gate, is the SEKENANI gate, which is most preffeed for entrants to the park because it is on the main road from Narok town.
The others are TALEK gate, OLOOLAIMUTIA gate. All the gates are manned by Council wardens and are the best places to get more information for first time tourists and those who may have lost their ways or bearings.
The friendly wardesn will also advice on which points to go for preffered game sites.
Please remember to always keep to the designated roads while driving around in the park, and be watchful when getting out of your vehicle.
The Mara Triangle was the original extent of the reserve until a further 1,000 square kilometers were added by the County Council of Narok in 1992 to incorporate two former group ranches, Sekenani and Musiara which trebled the reserves size.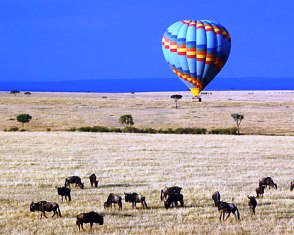 above the Mara Triangle
---
Masai Mara Safari Lodges
---
Fig Tree Camp
› |
Governors Camp Masai Mara
› |
Keekorok Lodge
› |
Kichwa Tembo Tented Camp
› |
Mara Intrepids Camp
› |
Mara Serena Safari Lodge
› |
Sarova Mara Camp
› |
Mara Simba Lodge. Mara Simba
› |
Mara Sopa Lodge
› |
Elephant Paper Camp
› |
Little Governors Camp in Masai mara
› |
Kicheche Mara Camp
› |
Mara Explorer
› |
Bushtops Camp
› |
Rekero Camp
› |
Tipilikwani Camp
› |
Siana Springs Intrepids camp
› |
Bateleur Camp in Masai Mara
› |
Cottars Camp
› |
Duma Camp
› |
Governors Private Camp
› |
Governors Il Moran Camp Masai Masai
› |
Leleshwa Camp
› |
Mara Hippo Lodge
› |
Mara Porini Camp
› |
Mara Safari Club
› |
Mara Siria Camp
› |
Mpata Safari Club
› |
Ngerende Island Lodge
› |
Olonana Camp
› |
Red Elephant Safari Lodge
› |
Muthaiga Safari camp › |
Enkewa Mara Camp › |
Naboisho Camp, Asilia Africa › |
Oldarpoi Mara Camp › |
Entim Camp › |
Maji Moto Eco Camp › |
Entumoto Safari Camp › |
Enkerende Tented Camp › |
Ngare Serian › |
David Livingstone Safari Resort › |
Kensington Mara West › |
Nyumbu Tented Camp › |
SEMADEP Camp › |
Sekanani Camp › |
Kichakani Mara Camp › |
Mara Gypsy The Luxury Safari Camp › |
Olare Ntiakitiak › |
JK Mara Tented Camp › |
Mara Sidai Camp › |
Rhino Tourist Camp › |
Olseki Mara Camp
› |
More Details About the Game Reserve
There have been some 95 species of mammals, amphibians and reptiles and over 400 birds species recorded on the reserve. Nowhere in Africa is wildlife more abundant, and it is for this reason a visitor hardly misses to see the big five (buffalo, elephant, leopard,
Contact details
PO Box 60, Narok Tel: +254 (0)50 22068/22337 Fax: +254 (0)50 22412/22260 Email: mkoikai@hotmail.com
Contact person
Chief Park Warden –
Location
Trans Mara District - Western sector, Masai Mara.
Distance from Nairobi
300 km
Size
510 sq km
Park fees
Contact tour operator.
Climatic conditions in Masai Mara National Park
Altitude 5,300 feet (1,600 metres). Rainy season from Novemberthrough May, with peak rainfall in December-January and April-May. Dry season from June-November.
Often sunny mornings with cloud build-up in the afternoons – during the rains this develops into thunderstorms in the afternoon and evening. Max temperatures up to 30°C and min temperatures around 20°C.
Wildlife in Masai Mara national Park
The Mara is known as one of the finest wildlife destinationsin the World. There is an excellent chance of seeing theBig 5, cheetah, serval, hyena, bat-eared foxes, black-backedand side-striped jackals, hippo, crocodile, baboons, warthog,topi, eland, Thompson's gazelle, Grant's gazelle, impala,waterbuck, oribi, reed-buck, zebra. During the migration (Julyto November) huge numbers of wildebeest move in.
Access to Masai Mara national Park
The Mara Triangle is serviced by two all-weather airstrips– Mara Serena and Kichwa Tembo. The main road accessinto the Triangle is through Narok and Sekenani Gate.
Accommodation in Masai Mara national Park
Mara Serena (150 beds) and Little Governors' Camp (36beds) are the only two lodges situated in the Triangle. KichwaTembo, Mpata Club, Olonana, Mara Siria and Kilima Camp aresituated on the periphery but use the Triangle.
Best time to visit Masai Mara national Park
Peak season is between July and October, during the migration.Early November and February can also offer excellent game viewing.
Activities in Masai Mara National Park
Game viewing, camping, night game drives, visits to Masai cultural villages, ballooning, bush dinner, lunch and breakfast.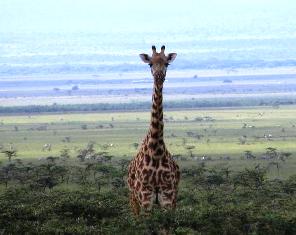 The Giraffe at Masai Mara National Reserve