Lake Naivasha Safaris and Lodge

Naivasha has a wide range of accommodation options to cater for all budgets. This ranges from 5 star hotels to budget hotels, self catering cottages, camp sites, guest houses and private ranches. 
Lake area varies greatly according to rainfall, with an average range between 114 and 991 sq kms.
At the beginning of the 20th Century, Naivasha completely dried up and effectively disappeared.
The resulting open land was farmed, until heavy rains a few years later caused the lake to return to existence, swallowing up the newly established estates.
Afternoon wind and storms can cause the Lake to become suddenly rough and produce high waves. For this reason, the local Maasai christened the lake Nai'posha meaning ''rough water'', which the British later misspelt as Naivasha..
---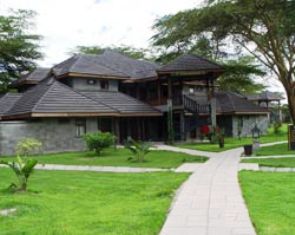 The lake and its surrounds are rich in natural bounty, and the fertile soils and water supply have made this one of Kenya's prime agricultural regions.
Much of the lake is surrounded by forests of the yellow barked Acacia anthophlea, known as the yellow fever tree.
These forests abound with bird life, and Naivasha is known as a world class birding destination
The waters of the lake draw a great range of game to these shores. Giraffes wander among the acacia, Buffalo wallow in the swamps and Colobus monkeys call from the treetops while the Lakes large hippo population sleep the day out in the shallows.
The region surrounding the Lake is well worth exploring. There are two more smaller lakes nearby, Oloidien, and Sonachi, a bright green cater lake.
Hell's Gate National Park lies beside the lake. This Park was named for its pair of massive red tinged cliffs framing a geothermically active interior of steam vents and bubbling springs.
The park is home to a profusion of plains game and birdlife. Walking is permitted, making it ideal for hiking, biking, and rock climbing.
Boat trips on the lake are widely available, and is a great way to spend an afternoon or morning.
Sunsets are always stunning, with the haunting call of a Fish Eagle high over the Lake bringing the day to a perfect end.
---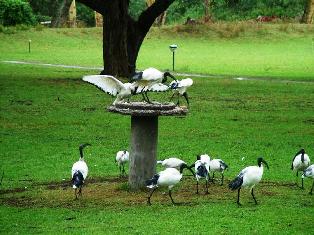 Accommodation in Naivasha
For accommodation near the lake, there are many hotels such as Enashipai Hotel, Salewa Lodge, Lake Naivasha Country Club and Masada hotel located on the shore of Lake Naivasha along the Moi South Lake Road. Several hotels are located in Naivasha town for those who wish to stay within the town.
Other hotels such as Lake Naivasha Panorama hotel are in the outskirts of the town.
Cheap accommodation is available in guest houses and hotels within the town. Some of the hotels have designated camping grounds while others such as Crayfish Camp focus mainly on camping.
---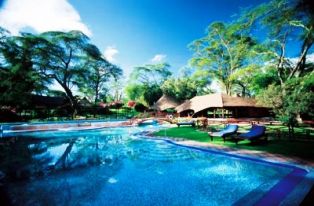 About Naivasha
Naivasha is located about 80 Kilometers North West of Nairobi, on the shores of Lake Naivasha along the Nairobi   Nakuru highway.
It is a popular holiday destination in Kenya due to the variety of hotels, lodges and camps available, tourist activities and also its proximity to Nairobi.
The town sits on the floor of the Great Rift Valley and has attractions such as Hells Gate, Lake Naivasha, Crater Lake etc. In recent times Naivasha has become a popular destination for corporate conferencing and team building, in part due to its tranquility that provides a perfect business environment away from the noise of the city.
---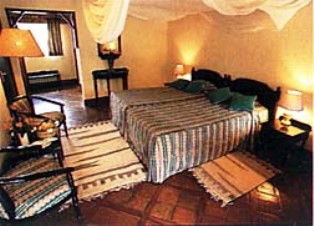 Getting Around -
Naivasha is located 80Km away from Nairobi- roughly an hour s drive using the Nairobi- Nakuru Highway. Other than using private means such as cars, public buses/ matatu are also available. There is also an airstrip in Naivasha for those wishing to take charter flights.
Main road access to Naivasha is directly from Nairobi by bus/Matatu or private transport.
The main highway continues from Naivasha to Nakuru. Lake Naivasha is just over an hour from Nairobi.
There is an airstrip in Naivasha, with charter flights available. Some lodges and guesthouses here have private airstrips.
Many hotels and lodges here can organize transfers from Nairobi to Naivasha. See the Accommodation section for details.
Most of the places in interest in Naivasha are around the Lakeshore, out of town. There are taxis available in Naivasha town.
A private car is a good way to explore this region. Many hotels and Lodges organize local excursions.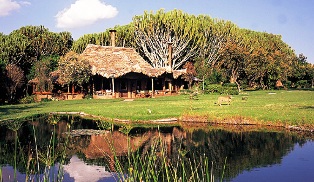 Naivasha Bed and Breakfast Hotels

Lake Naivasha Simba Lodge › |
Lake Naivasha Country Club Hotel › |
Enashipai Resort & Spa › |
Kongoni Lodge › |
Kiangazi House › |
Longonot Ranch House › |
Fish Eagle Inn › |
La Belle Inn › |
Lake Naivasha Resort › |
Grit Rift valley Lodge and Golf Resort
› |
Hippo Point Hotel
› |
Lake Elementaita lodge
› |
Lake Naivasha Sopa Lodge
› |
Chui Lodge Naivasha Kenya
› |
Lake Naivasha Country Club
› |
Lake Naivasha Simba Lodge
› |
Elsemere House
› |
La Belle Inn
› |
Loldia House Naivasha
› |
Longonot Ranch House
› |
Malu Hotel Lake Naivasha
› |
Mundui Estate
› |
Olerai House
› |
---
Naivasha Special Safari Lodges

Loldia House › |
Sanctuary Farm › |
Camp Carnelley's › |
Olerai House › |
Elsamere Field Study Centre › |
Crater Lake naivasha › |
Fisherman's Camp › |
Lake Naivasha Panorama Park › |
Hippo Point & Dodo's Tower › |
Lake Naivasha Sawela Lodge › |
---
Naivasha Vacation Rentals

Kililecha › |
More about Lake Naivasha in Kenya