Mt Longonot Kenya
Mount Longonot is a stratovolcano located southeast of Lake Naivasha in the Great Rift Valley of Kenya, Africa.
It is thought to have last erupted in the 1860s. Mount Longonot makes a great day trip from Nairobi or Naivasha. It's quite possible to drive there, climb to the top
Standing over the shores of Lake Naivasha, at 2886 metres this massive dormant volcano dominates the landscape for miles around.
---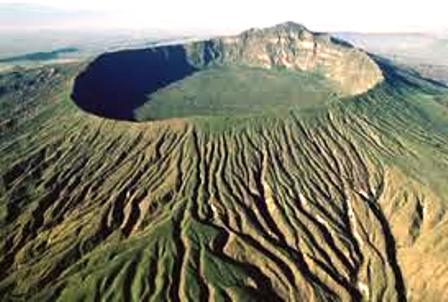 The brooding hulk of the Mountain is lined with spectacular fissures and laval canyons. As you climb these slopes, you pass through herds of grazing game as spectacular views of the Rift Valley and Naivasha unfold below.
Its vast crater is an awesome sight, the jagged edge surrounding a broad expanse of vegetation. Geothermal steam trickles upwards from the walls, while buffalo and other game make their way across the crater floor.
A climb up Mount Longonot is an ideal day trip from either Nairobi or Naivasha.
---
Getting There and Getting Around
---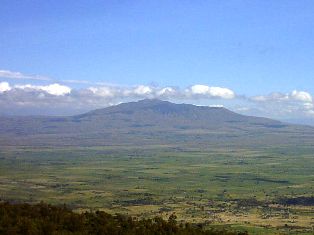 Main road access to Mt Longonot is from the lower escarpment road between Nairobi and Naivasha. There is a marked gate. Accessing Longonot requires private transport. There is a secure parking area at the park gate.
There is an airstrip in Naivasha, servicing charter flights. Hotels and lodges in Naivasha can organize transfers and day trips to Mt Longonot National Park.
Other Related Pages

<
Mount Elgon
|
Kenya Mountains and Hills guide
|
Loroghi Hills
|
Mount Kenya
|
Mt Longonot in Kenya
|
Shimba Hills in Kenya
|
Taita and Chyulu Hills
|
---