Wildlife in Shimba Hills National Park
Shimba Hills National Park is an easy drive and offers beautiful, lush scenery. It has a unique and botanically rich coastal rainforest. Two of Kenya's most beautiful orchids can be found here.
The Shimba National Reserve is located just 48 kms from the coast, but at 500 metres they make a cool change from the tropical coastal climate. The reserve is made up of both open grassland and dense rainforest, all with stunning views across the Indian Ocean.
The Reserve has a variety of species including Elephant, Giraffe and Buffalo as well as the rare Roan and Sable antelope. The forests are home to a number of unusual species including the Black and White Colobus, Serval cats, Red Duiker and Suni Antelope.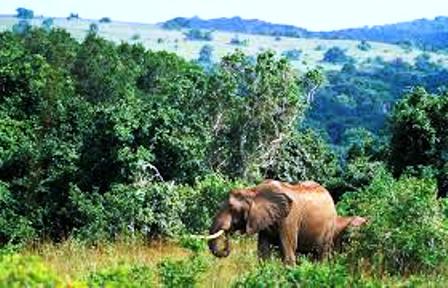 ---
More about Shimba Hills in Kenya
---
An abundance of birdlife lives is found among the hills, including Honey guides, Turacos, woodpeckers and Sunbirds.
The Shimba are a natural and peaceful haven, easily accessed from the beaches of the Kenyan coast....
Shimba Hills were gazetted as a National Forest in 1903, grassland areas were incorporated in 1924 and several subsequent extensions took place to bring the reserve to its present size. In 1968 most of the reserve was double gazetted as the Shimba Hills National Reserve. 
Two smaller areas to the west adjoining the reserve and almost entirely forested remain as Forest Reserves; Mkongani North and Mkongani West Forest Reserve. A fenced elephant corridor connects the Shimba Hills with Mwaluganje Forest Reserve to the North. 
---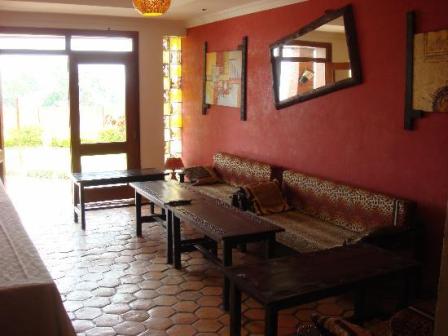 The Shimba Hills are a dissected plateau that ascends steeply from the coastal plains, 30 km south west of Mombasa and just south of Kwale town. The surrounding escarpment rises from around 120 metres to 300 metres across the bulk of the plateau and as high as 450 metres at Marare and Pengo hills.
Climatic conditions - The climate is hot and moist but cooler than that the coast with strong sea breezes and frequent mist and cloud in early morning. Annual rainfall is 855-1,682 mm. Mean annual temperatures is 24.2°C.
Major attractions - Scenic landscape comprising hills and valleys extending beyond the Reserve boundaries; coastal rainforest; Sheldrick's Falls.
---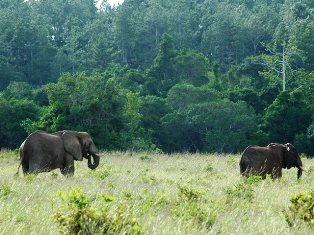 Wildlife - Sable, elephant, buffalo, waterbuck, reedbuck, hyena, warthog and bush pig, giraffe, leopard, baboon plus Sykes', black-faced vervet monkey and Angola colobus monkey, serval, Harvey's duiker and suni. Introduced species include Maasai giraffe and ostrich.
Access - Road: The Reserve's main access is via Diani - 56 km from Mombasa. Air: 1.5 km airstrip. Regular flights also at Ukunda airstrip at Diani Beach and at Moi International Airport in Mombasa.
Accommodation - Lodges: Shimba. Kenya Wildlife Service Self-Catering Accommodation: Sable Bandas
---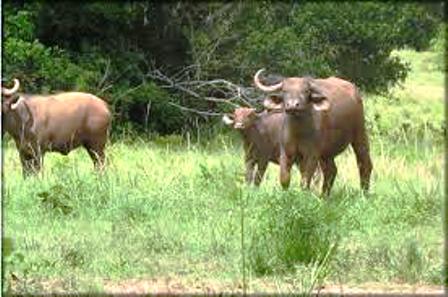 Best time to visit - All year round
Activities - Game viewing, potential for bird-shooting outside the reserve, walking safaris
Getting There and Getting Around
Road access to Shimba is via Kwale, easily accessible from Mombasa. Accessing Shimba is difficult without private transport.
Most visitors come here as part of a Safari package from Nairobi or in a Hire Car. The park has well established internal roads and tracks.
Some Other Places of Tourism Attractions 
South Rift Circuit Tour Destinations
› |
Western Kenya Tourist Points
› |
Kenya Top Tourist Destinations
› |
Kenya Wildlife Weddings
› |
Kilimanjaro
› |
Kilwa Beaches
› |
Lake Turkana
› |
Lamu Cultural Festivals
› |
Lamu Maulidi Festivals
› |
Lamu Town Destinations
› |
Lamu Town Hotels
› |
Lewa Marathon Festivals
› |
Loroghi Hills
› |
Watamu Beaches
› |
Malindi Beaches
› |
Maralal Camel Derby
› |
---
Other Related Pages

<
Mount Elgon
|
Kenya Mountains and Hills guide
|
Loroghi Hills
|
Mount Kenya
|
Mt Longonot in Kenya
|
Shimba Hills in Kenya
|
Taita and Chyulu Hills
|
---