Maralal Camel Derby
Maralal Camel Derby is Kenya's best known and most prestigious camel race, attracting both local and international competitors.  It is an annual event, held mid year just outside of Maralal town.
The event is a major draw for spectators as well as racers, and the competition is fierce.
Considered one of the highest honours in camel racing, many professional camel racers come to compete each year.
Some of the finest specimens of racing camels are seen in town during the race period.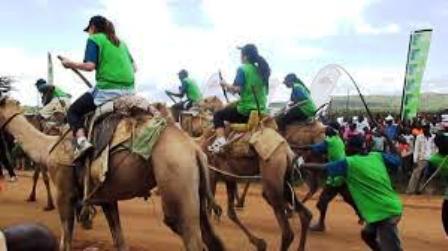 The race is a great social event, and the major event on the Maralal Calendar.
Both competitors and visitors to Maralal join in the festivities in and around town.
The atmosphere in town on race day is electric and entertaining. The race begins in the centre of town, where a throng of camels at the at the start line.
Flagged off by local dignitaries, the race begins with initial chaos as the camels break across the line.
The less 'professional' camel jockeys often lose control of their over-excited steeds, which often decide to run the race in the completely opposite direction.
As the amateurs head off in whichever direction their camel chooses, the professionals break free and head for the course at breakneck speed.
Cheering supporters line the route, and the final stretch is always alive with excited spectators as the winners cross the line.
A cycling race is also now held concurrently with the derby, with mountain bikes racing over a demanding course.
The cycle race also attracts its share of dedicated professionals on world class bikes, as well as local amateurs on bikes that in some cases never see the end of the race.
The Maralal Camel derby is more than just a race. It is an entertaining festival of fun and local competition that brings this small desert town to life.
If you are visiting Kenya during the race period, don't miss Maralal.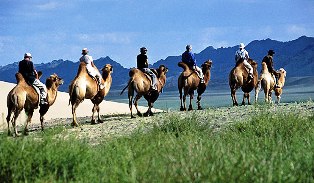 Some Other Places of Tourism Attractions 

South Rift Circuit Tour Destinations
› |
Western Kenya Tourist Points
› |
Kenya Top Tourist Destinations
› |
Kenya Wildlife Weddings
› |
Kilimanjaro
› |
Kilwa Beaches
› |
Lake Turkana
› |
Lamu Cultural Festivals
› |
Lamu Maulidi Festivals
› |
Lamu Town Destinations
› |
Lamu Town Hotels
› |
Lewa Marathon Festivals
› |
Loroghi Hills
› |
Watamu Beaches
› |
Malindi Beaches
› |
Maralal Camel Derby
› |
---