Kenya Ocean Beaches Destinations
An ocean of opportunities For Sports and Leisure.The dazzling Kenyan coastline is one of sun-drenched beaches with soft sand, warm turquoise waters and refreshing sea breezes.
The coast is also dotted with attractive creeks, sleepy rivers and shady inlets. This is an ideal place for big game fishing, diving,water sports – or just lying on the beach.
No region in Kenya is better served in terms of hotel accommodation.
From Lamu in the north to Chale Island in the far south, visitors will find just about every type of hotel with a rangeof prices to suit all budgets
Lying just offshore is a series of highly protected marine parks – Mombasa, Malindi,Diani/Chale Island, Kiunga, Kisite Mpunguti and Watamu – that together stretch almost the entire length of the Kenyan coastline, offering true paradise for divers.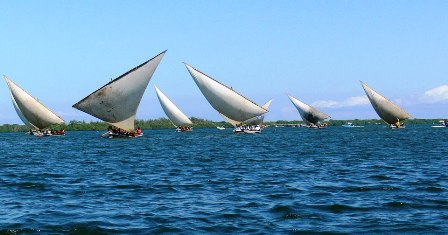 SPECIALISED
Inland, the Coastline Region contains a number of small and mostly specialised parks and reserves:
•Arabuko Sokoke Forest National Park, located between Malindi and Watamu, is the last major remnant of tropical rain forest at the coast and features some rare species of birds.
•Tana River Primate National Reserve, covering 171 square kilometres, is home too a wide rangeof species including the rare and endangered mangebey and red colobus monkeys.
•Shimba Hills National Reserve, located conveniently close to the Diani resort on the south coast, is the only place in Kenya to view the sable antelope.
This is the only park in the circuit where accommodation is available.
COASTLINE REGION CIRCUIT
1 Arabuko Sokoke Forest Reserve
•Kisite Mpunguti National Park & Reserve
•Kiunga Marine National Reserve
•Malindi Marine Park & Reserve
•Shimba Hills National Reserve
Some Other Places of Tourism Attractions 
Nguni Nature Sanctuary
› |
Ngomongo Village Mombasa
› |
Mamba Village Mombasa
› |
Jain Temple
› |
Adventure in Kenya
› |
Night Clubs
› |
Fishing and Diving
› |
Gedi Ruins
› |
Hallers Wildlife Park
› |
Karen Blixen Museum
› |
Northern Region Destinations
› |
High Mountains Destinations
› |
Kenya Mountains and Hills
› |
Kenya Ocean Beaches
› |
Tour Destinations Eastern Kenya Destinations
› |
---