Watamu Marine National Park and Reserve
Watamu National Park is part of a complex of marine and tidal habitats on Kenya's north coast stretching from Malindi town to beyond the entrance to Mida creek. It is enclosed by the Malindi Marine National Reserve which also encloses Malindi Marine National Park.
Habitats include inter-tidal rock, sand and mud; fringing reefs and coral gardens; beds of sea grass; coral cliffs, platforms and islets; sandy beaches and Mida Creek mangrove forest.
The park was designated as a Biosphere reserve in 1979. Mida creek is a large, almost land-locked expanse of saline water, mangrove and inter-tidal mud.
Its extensive forests are gazetted as forest reserves and the extreme western tip of Mida Creek is part of the Arabuko Sokoke Forest Reserve.
Contact detailsPO Box 4, Hola Tel: +254 (0)46 2035 www.kws.go.ke
Contact person
Senior Warden
Location
Coast Province
Distance from Nairobi
350 km east of Nairobi and 240 km north of Mombasa
Size
171 square km
Park fees
Go to www.kws.go.ke or contacttour operator.
Climatic conditions
The climate is generally hot and dry
---
Major attractions
---
River Tana; Tana River Primate National Reserve is a mixtureof savannah and riverine forest; game viewing; bird watching;endangered primate watching
Wildlife
Grevy's zebra, the Maasai and reticulated giraffe, oryx, buffaloand lesser kudu. The river hosts plenty of crocodile and hippo,and the variety of water birds is not to be missed. Endemicred colobus and mangabey monkeys are found here.
Access
Road: The reserve is accessible via the Malindi-Garissa road. Located 250 km north of Mombasa on the Malindi to Garissaroad.
Accommodation
Campsites, Bandas, Trails
Best time to visit
All year round
Activities
Walking, game viewing, bird watching, primates watching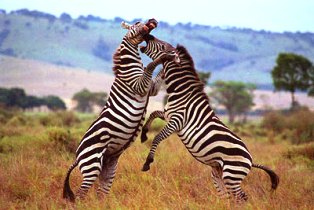 Grevy's zebra,
Other Related Pages
Kakamega Forest National Reserve
|
Kisite Mpunguti Marine National Park
|
Kisumu Impala Sanctuary
|
Kiunga Marine National Reserve
|
Mount Elgon National park
|
Kora National Reserve
|
Marsabit National Park in Kenya
|
Masai Mara National Reserve
|    
Meru National park in Kenya
|
Mombasa Marine National Park in Kenya
|
Mwingi National Reserve
|
---