Marsabit National Park in Northern Kenya
Marsabit National Reserve covers an area of 1,500 square km and consists of a forested mountain that rises like an oasis in the middle of the desert wilderness and is the only source of permanent surface water in the region.
The reserve has three spectacular crater lakes that provide habitat for a variety of birdlife.
One of the lakes, Lake Paradise, is most scenic and famous from early films and writings of Martin Johnson and Vivien de Wattville.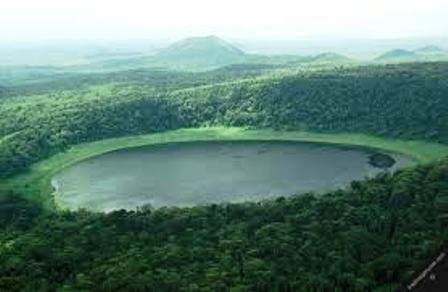 The Crater lake of Marsabit National reserve
Marsabit National reserve is also well known because of large elephants like the famous Ahmed, an elephant that was provided with a 24 hour protection by a presidential order.
Ahmed, who boasted some of the biggest tusks ever recorded, died at age 55, and his body was preserved and is now on display in Nairobi National Museum.
Contact details
PO Box 42, Marsabit Tel: +254 (0)69 2028,2279 www.kws.go.ke
Contact person
Senior Warden
Location of Marsabit
Marsabit District, Eastern Province
Distance from Nairobi
560 km north of Nairobi
Size
360 square km
Park fees
Go to www.kws.go.ke or contacttour operator.
Climatic conditions Marsabit
January to March is hot and dry, April to June is hot andwet, July to October is warm and dry, November and Decemberare warm and wet.
Major Attractions Marsabit
Pristine forest, scenic landscape and wilderness,crater lakes, diverse local cultures
Wildlife in Marsabit
Elephant, lion, leopard, cheetah, greater kudu, hyena, aardwolf,caracal, klipspringer, Grant's gazelle, oryx, and reticulated giraffe. Diverse birdlife.
Access to Marsabit
By Road: 560 km north of Nairobi, 263 km north of Isiolo.By Air: The park is located two and half hours by air fromNairobi and is served by a tarmac airstrip located 1 km from Marsabit town centre.
Accommodation in Marsabit
Lodges: Marsabit Lodge
Best time to visit
All year round
Activities
Game viewing, bird watching 
Other Related Pages
Nairobi national park
|
Aberdare National Park in Kenya
|
Amboseli National Park in Kenya
|
Arabuko Sosoke Forest National Park
|
Lake Nakuru national park
|
Mount Kenya national Park
|
Ol Donyo Sabuk National Park
|
Mount Longonot National Park
|
Mwea National Reserve in Kenya
|
Nasolot National Reserve
|
Ndere Island National Park in Kenya
|
Bisanadi National Park
|
Buffalo Springs and Shaba National Reserve
|
Chyulu Hills National Park
|
Hells Gate National Park
|
---