Aberdare National Park in Kenya
Are you looking forward to visit aberdare national park in Kenya? Here are the coolest Majestic Peaks, Moorlands and Falls and all information you will need to know about Aberdare in Africa and its wildlife.
The Aberdares is an isolated volcanic range that forms the eastern wall of the rift valley,running roughly 100 km north-south between Nairobi and Thomson's Falls.
Soils are red and of volcanic origin, but rich in organic matter. There are two main peaks, Ol Donyo Lesatima (3,999 metres) and Kinangop (3,906 metres) separated by a long saddle of Alpine moorland at over 3,000 metres.
The topography is diverse with deep ravines that cut through the forested eastern and western slopes and there are many clear streams and waterfalls.
The Aberdares are an important water catchment area providing water to the Tana and Athi rivers and part of Central Rift and Northern drainage basins.
The National Park lies mainly above the tree line running along the 10,000 ft (3,048 metres) contour with some forest and scrub at lower altitude in the 'salient' area near Nyeri with the boundary running down to the 7,000 ft (2,296 metres) contour.
The unusual vegetation, rugged terrain, streams and waterfalls combine to create an area of great scenic beauty in the National Park.
The park is surrounded by a predominantly indigenous forest, whose management is under a MoU between Kenya Wildlife Services and the Forest Department.
Aberdare Park Contact details
 PO Box 22, Nyeri.Tel: +254 61 (0)550 24121, 24124Email: aberdare@wananchi.com www.kws.go.ke
Contact person Senior Warden
Location of Aberdare Park
 Central highlands, west of Mount Kenya; Nyeri District; Central Province
Distance from Nairobi to Aberdare 160 km
Size of Aberdare 
767 square km
Park fees 
Go to www.kws.go.ke or contact tour operator.
Climatic conditions of Aberdare 
Mist and heavy rainfall occur throughout much of the year, with precipitation varying from around 1,000 mm yearly on the north-western slopes to as much as 3,000 mm in the south-east.
Major Attractions in Aberdare Game Park
Lesatima Peak, Kinangop Peak, waterfalls, walks in the moorlands, Twin Hills, Elephant Hills and Table Mountains.
Second largest population of black rhinos in Salient and northern Aberdare. Queen Elizabeth II learned of her accession to the British throne at Treetops lodge. The Kimathi Hideout/Mau Mau caves.
Wildlife in Aberdare 
The park is home to most of the larger mammals, having a large population of black rhino.
The park has endangered species including the rare bongo, giant forest hog, packs of the now very rare wild dogs and endemic mole-rat and mole shrew.
Other game includes leopard, serval, endemic bird species,reptiles and insects.
Access to Aberdare
Roads: The park is readily accessible on tarmac from Nyeri and Naro Moru on the eastern side (160 km from Nairobi).
A road crosses the park to connect with another from Naivasha and North Kinangop in the west.
The main towns from which the park can be approached are Nyeri (154 km from Nairobi), Nyahururu (188 km from Nairobi) and Naivasha (87 km from Nairobi).
Airstrips: Mweiga Airstrip is next to the park headquarters or Nyeri Airstrip is 12 km from Mweiga headquarters.
Kenya Wildlife Service:
 Fishing Lodge, Ruhuruini, Tusk Camp, Sapper Hut, KWS Hut at Treetops, KWS HQ bungalow
Best time to visit Aberdare All year round
Other Activities in Aberdare
Mountain climbing, camping, hiking, walking, game viewing, night viewing of wildlife at The Ark and Treetops Lodges.
Trout fishing is also available along the numerous ice-cold clear flowing streams. Click here for more information about all Kenya Animals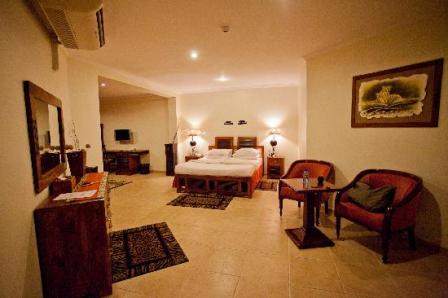 Other Related Pages

Kakamega Forest National Reserve
|
Kisite Mpunguti Marine National Park
|
Kisumu Impala Sanctuary
|
Kiunga Marine National Reserve
|
Mount Elgon National park
|
Kora National Reserve
|
Marsabit National Park in Kenya
|
Masai Mara National Reserve
|    
Meru National park in Kenya
|
Mombasa Marine National Park in Kenya
|
Mwingi National Reserve
|
---