Lake Nakuru National Park Kenya Rift Valley

Lake Nakuru national park is called the Bird Watcher's Paradise in Kenya and Africa in general.
On this page, let us guide you to all hotels and on all the information you would need to know about the national of Nakuru and its tourist attractions in Kenya.
---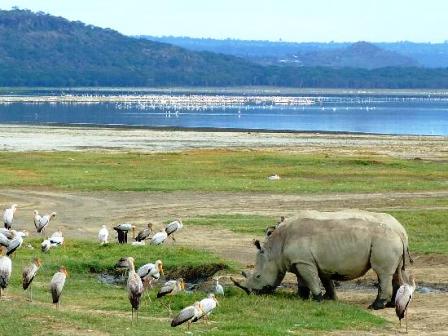 Lake Nakuru is a shallow strongly alkaline lake set in a picturesque landscape of surrounding woodland and grassland.
The landscape includes areas of marsh and grasslands alternating with rocky cliffs and outcrops, stretches of acacia woodland and rocky hillsides covered with a Euphorbia forest.
The lake's catchment is bounded by Menengai craterto the north, the Bahati hills to the north east, the lion hill ranges to the east, eburu crater to the south and the mauescarpment to the west. Three rivers, the Njoro, Makalia andEnderit drain into the lake.
Lake Nakuru was first gazetted as a bird sanctuary in 1960 and upgraded to National Park status in 1968.
A northern extension was added to the park in 1974 and the lake was designated as a Ramsar site in 1990.
Lake Nakuru National Park Luxury Hotels

Sarova Lion Hill Game Lodge › |
Hotel Waterbuck Nakuru › |
Langa Langa Guesthouse › |
Lake Nakuru National Park Safari Lodges

Flamingo Hill Tented Camp › |
Mbweha Camp › |
Lake Nakuru Lodge › |
Maili Saba Camp › |
Kakamega Forest National Reserve
|
Kisite Mpunguti Marine National Park
|
Kisumu Impala Sanctuary
|
Kiunga Marine National Reserve
|
Mount Elgon National park
|
Kora National Reserve
|
Marsabit National Park in Kenya
|
Masai Mara National Reserve
|    
Meru National park in Kenya
|
Mombasa Marine National Park in Kenya
|
Mwingi National Reserve
|
---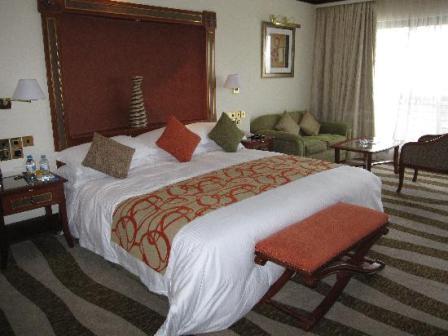 The foundation of the park's food chains is the cyanophyte spirulina platensis which can support huge numbers of lesserflamingo.
During peak season over one million flamingoscongregate on the lake plus half a million pelicans. The Park also contains Kenya's largest population of rhinos.
The surface of the lake occupies about a third of thepark. The lake supports a dense bloom of the blue-green Cyanophyte Spirulina platensis from which it derives its colour. It is a food source for flamingos.
The lake is fringed by alkaline swamps with areas of sedge,cyprus laevigatus and typha marsh along the river inflowsand springs. The surrounding areas support a dry transitional savanna with lake margin grasslands.
Contact details of Nakuru national park
PO Box 539, Nakuru Tel: +254 (0)51 221 7151, 221 7371Email: kwslnnp@africaonline.co.ke www.kws.go.ke
Contact person Senior Warden
Location of Nakuru national park
Nakuru, Rift Valley Province
Distance from Nairobi
160 km
Size
188 square km
Park fees
Go to www.kws.go.ke or contacttour operator.
Climatic conditions
Warm and dry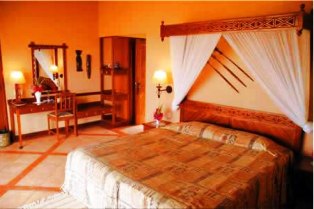 Wildlife of Nakuru national park
Birds: Up to 1.5 million flamingos plus 450 other species of birds.
Fauna: Includes Thompson's and Grant's gazelle, the rarelong-eared leaf-nosed bat, colobus monkey, rock hyrax, hippo,leopard, lion, rhino, waterbuck, impala, gazelle, striped hyena,bat-eared fox, wild cat, reedbuck and golden cat. Restocked mammals include: lion, black and white rhino and the endangered Rothschild's giraffe.
Access to Lake Nakuru national park By Road: The park is 160 km north-west of Nairobi at Nakuru. From Nairobi take the A104 road (direction Naivasha).
The main gate and the park headquarters is 4 km south of Nakurutown (from Kenyatta Avenue), take the Moi Road then turn leftinto Stadium Road which leads to the gate), Lanet Gate
Accommodation Nakuru national park
Lodges: Sarova Lion Hill Lodge, Lake Nakuru Lodge KWS self-catering accommodation: Naishi Guest House, Flamingo Guesthouse
Best time to visit
All year round
Activities in Lake Nakuru national park
Bird watching, camping, picnic, finest views of the lake from Baboon Cliff, Lion Hill and Out of Africa Hill