Bisanadi National Reserve
Do you want free guide to Bisanadi national reserve in Kenya? Are you planning to travel to Bisanadi?
Don't go without reading the details about this reserve in Kenya on this page.Bisanadi National Reserve acts as a wildlife dispersal area for Meru National Park.
It is a part of the Meru, Kora, Mwingi and Bisanadi conservation area, adjacent to northeast boundary of Meru, Isiolo district, covering an area of 606 square km.
The vegetation is mainly thorn bushland and thicket with combretum prevailing in the north and commiphora in the south. To the west the combretum merges into terminalia wooded grasslands.
The red-flowered parasitic loranthus grows on the branches of acacia reficiens along the rivers. Dense riverine forests of doum palm hyphaene spp. and raffia palm raphia spp.occur along the water courses.
Some riverine swamps have sedges cyperus sp., and grasses echinochloa haplacelada and pennisetum mezianum.
On the plains sehima nervosa, chloris roxburghiana and other species of pennisetum are the dominant grasses.
Contact details 
PO Box 11, MauaTel: +254 (0)164 20613 Cell: +254 (0)733 662439 www.kws.go.ke
Contact person 
Senior Warden/ Tourism Officer
Location of Bisanadi National Reserve 
Adjacent to north-east boundary of Meru, Isiolo district.
Distance from Nairobi
348 km
Size 606 square km
Park fees
 Go to www.kws.go.ke or contact tour operator.
Climatic conditions 
The climate is hot and dry.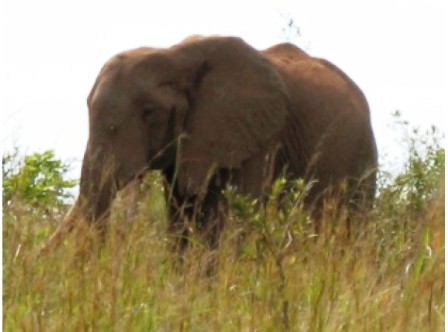 Major Attraction of Bisanadi National Reserve 
Wilderness habitat, game viewing, Adamson's Falls, fishing and boating on River Tana and Rojewero River.
Wildlife in Bisanadi National Reserve
Many species of mammals includinglion, elephant, cheetah,rhino, buffalo, hippos and over 400 species of birds.
Access of Bisanadi National Reserve 
Roads: The reserve is readily accessible via Meru National Park, Murera Gate.
Accommodation in Bisanadi National Reserve
 There is currently no accommodation in the reserve. Visitors can stay in the adjacent Meru National Park where there are various accommodation options.
Best time to visit Bisanadi National Reserve All year round.
Activities Game viewing, fishing in River Tana, bird watching.
Other Related Pages

Nairobi national park
|
Aberdare National Park in Kenya
|
Amboseli National Park in Kenya
|
Arabuko Sosoke Forest National Park
|
Lake Nakuru national park
|
Mount Kenya national Park
|
Ol Donyo Sabuk National Park
|
Mount Longonot National Park
|
Mwea National Reserve in Kenya
|
Nasolot National Reserve
|
Ndere Island National Park in Kenya
|
Bisanadi National Park
|
Buffalo Springs and Shaba National Reserve
|
Chyulu Hills National Park
|
Hells Gate National Park
|
---