Mount Kenya National Park 

Can I be your guide to Mount Kenya national Park the Namesake of a Kenya Nation?
On this site we will guide you to all the details you may need to know about Mount Kenya game reserve and its natural attractions in Kenya and Africa in general plus all hotels and lodge on mt Kenya.
Mount Kenya is an imposing extinct volcano dominating the landscape of the Kenyan Highlands.
The mountain has two main peaks – Batian (5,200 metres) and Nelion (5,188 metres).
The mountains slopes are cloaked in forest, bamboo, scrub and moorland giving way on the high central peaks to rock, ice and snow.
Mount Kenya is an important water catchment area, supplying the Tana and Northern Ewaso Ngiro systems.
The park includes a variety of habitats ranging from higher forest, bamboo, alpine moorlands, glaciers, tarns and glacial morains.
The Park, which was inscribed by UNESCO as a World Heritage Site in 1997 and is also a Biosphere Reserve, covers 715 square km, and includes the peaks consisting of all the ground above 3,200 metres with two small salients extending lower down to 2,450 metres along the Sirimon and Naro Moru tracks.
Surrounding the park is Mount Kenya National Reserve with an area of approximately 2,095 square km.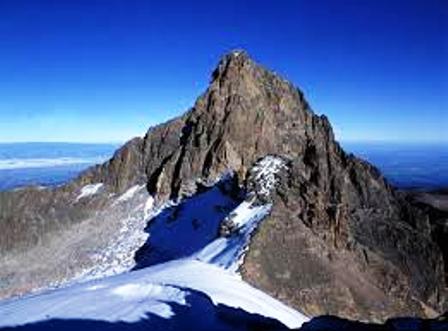 Mount Kenya national Park on Mt Kenya
Contact details
PO Box 753 NyeriTel: +254 (0)61 55645, 55201www.kws.go.ke
Contact person
Senior Warden
Location
East of the Rift Valley. Mount Kenya lies about 140 km northnorth- east of Nairobi with its northern flanks across theEquator.
Distance from Nairobi
140 km
Size
715 square km
Park fees
Go to www.kws.go.ke or contact tour operator.
Climatic conditions
Climate, flora and fauna on Mount Kenya varies with altitude
---
Major attractions in Mount Kenya
---
Pristine wilderness, lakes, tarns, glaciers and peaks of great beauty, geological variety, forest, mineral springs, rare and endangered species of animals, high altitude adapted plains game. Unique montane and alpine vegetation with 11species of endemic plants.
Wildlife in Mount Kenya
Giant forest hog, tree hyrax, white-tailed mongoose, elephant,black rhino, suni, blackfronted duiker, mole- rat and over 130 species of bird
Access to Mount Kenya National Park
Access Roads: 175 km from Nairobi,the park can be reached on Nanyuki-Isiolo road via Sirimon Track or Nyeri-Nanyukiroad near Naro Moru.
The park is also reachable via Chogoria on the Embu-Meru road, about 150 km north of Nairobi.Airstrips: The closest commercial airstrip to the park is at Nanyuki.
Accommodation in Mount Kenya
Lodges: There is currently no lodge in the park. Various lodges offer accommodation in the region. 
KWS self-catering accommodation:
Batian Guesthouse, Sirimon Bandas
In addition there are various bunkhouses and climbing hutsare on the climbing route.
Best time to visit
All year round
Activities in Mount Kenya:
Mountain climbing, wildlife viewing,camping, cave exploration.
Other Related Pages

Nairobi animal orphanage
|
Ruma National Park in Kenya
|
Saiwa Swamp National Park
|
Samburu National Reserve
|
Shimba hills National Reserve
|
Sibiloi National Park in Kenya
|
The Tana River National Primate Reserve
|
Tsavo East National Park
|
Tsavo West National Park
|
Watamu Marine National Park and Reserve
  |
---
---
List of Hotels and Lodge on Mt Kenya

---
Castle Forest Lodge › |
Sweetwater Tented Camp › |
Serena Mountain Lodge › |
Ol Pejeta House › |
Mountain Rock Lodge › |
Alliance Naro Mole
› |
Lake Baringo Club
› |
Lake Baringo Club
› |
Blue Post Hotel
› |
Borana Lodge
› |
Desert Rose Lodge
› |
Elsa Kopje Camp
› |
Il Ngwesi Lodge
› |
Island Camp Baringo
› |
Kigio Wildlife Camp
› |
Kitich Camp
› |
Lake Bogoria Hotel
› |
Bogoria Lake Hotels
› |
Mutamaiyu House
› |
Lewa safari Camp
› |
Loisaba lodge
› |
Malewa Wildlife Lodge
› |
Mukutan Retreat
› |
Ol Malo Lodge
› |
Ol Pejeta House
› |
Sabuk Lodge
› |
Sarova Lion Hill
› |
Tented Camp Ututu
› |