Saiwa Swamp National Park
Saiwa is the smallest park in Kenya, only 3 square km. It was established to protect the semi-aquatic sitatunga antelope and encloses the swamp fed by the Saiwa river together with its fringing belts of rain forest.
The park is enclosed by subsistence farming settlements.Vegetation is a mixture of forest and swamp vegetation. The swamp is dominated by tall bullrushes and sedges. The swamp is bordered by a mixture of grassland, riverine forests and acacia.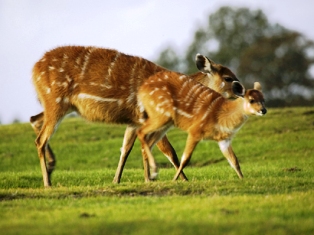 The Sitatunga of Swamp National Park
Contact details
PO Box 4506 Kitale Email: kwsssnp@africanonline.co.ke www.kws.go.ke
Contact person
Senior Warden
Location
Trans Nzoia District, Rift ValleyProvince
Distance from Nairobi
385 km
Size2.9 square km
Park fees
Go to www.kws.go.ke or contact tour operator.
Climatic conditions
The Park has a typical African wetland climate, ranging fromwarm to cool humid to semiarid.
Major Attractions in Saiwa Swamp
Sitatunga aquatic antelope; game viewing; bird watching; trail walking
Wildlife in Saiwa Swamp
Sitatunga, monkeys, otter, genet, serval, mongoose, bushback and ratel (or honey badger). Birds: over 372 species including such rarities as Ross' turaco and blue-headed coucal.
Access top Saiwa Swamp
Road: The park lies 27 km north of Kitale on the Kitale-Lodwar tarmac road. Approaching Kitale from the direction of Eldoret or Bungoma, turn right at Kitale Museum and followthe road into a left hand bend.
After 0.5 km turn right and follow signs for Kapenguria and Lodwar. After 1.5 km turn left onto the A1 Lodwar Road and proceed for 18 km to Kipsaina where there is a sign to Saiwa Swamp NP. Turn right at the sign and follow the murram road for 6.5 km to the park's only gate-Saiwa Gate.
Accommodation in Saiwa Swamp
Sirikwa Guesthouse and Campsite Kenya Wildlife Service Self-Catering Accommodation: Tree Top House.
Best time to visit
All year round.
Activities
 Game viewing, bird watching,camping, picnicking, nature walks 
Other Related Pages
Kakamega Forest National Reserve
|
Kisite Mpunguti Marine National Park
|
Kisumu Impala Sanctuary
|
Kiunga Marine National Reserve
|
Mount Elgon National park
|
Kora National Reserve
|
Marsabit National Park in Kenya
|
Masai Mara National Reserve
|    
Meru National park in Kenya
|
Mombasa Marine National Park in Kenya
|
Mwingi National Reserve
|
---