Sibiloi National Park
The Sibiloi National Park was partially established through the initiative of National Museums of Kenya to protect unique prehistoric and archaeological sites some of which are linked to the origin of man.
Sibiloi National Park covers 1,570 square km of wilderness scenic landscape on the shores of Lake Turkana.
The fossils include a crocodile euthecodon brumpti, giant tortoile petusios broadleyi, elephant elephas recki and the petrified forest.
The terrain is lake shore, dry semi desert bush and near desert country. The park is waterless apart from the alkaline waters of the lake.
Contact details
PO Box 219, Lodwar bTel: +254 (0)54 21223 www.kws.go.ke
Contact person
Senior Warden
Location
Lake Turkana, Marsabit District,Eastern Province
Distance from Nairobi
800 km north of Nairobi
Size
1,570 square km
Park fees
Go to www.kws.go.ke or contact tour operator.
Climatic conditions
Hot and arid
---
Major attractions
---
Origins of Man: Koobi Fora Museum & Research Base; thousands of fossils including giant tortoises; Behemoth, 45ft long Crocodile; Lake Turkana Scenery; shoreline; game viewing.
Wildlife
Bird watching: More than 350 recorded species including flamingo, pelican and duck. Hippo, crocodile, zebra, Grant's gazelle, reticulated giraffe, beisa oryx, topi, greater kudu,lion, cheetah, leopard among other species.
The world's largest Nile crocodile population breeds on Lake Turkana's Central Island.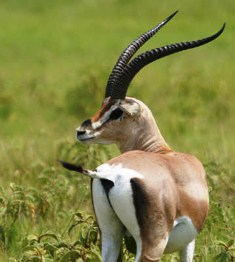 Grant's gazelle in Sibilio National Park Kenya
Access
Road: The lake is a three day drive from Nairobi via Marsabit and North Horr, or Maralal and South Horr.
Alternatively travelby road from Nairobi to Kalokol on the lake's western shores, viaKitale and Lodwar.
From Kalokol boat hire services are availableacross the lake to Allia Bay. Air: There are two all- weatherairstrips.
Accommodation
Lodges and tented camps: Oasis Lodge, Lobolo Tented Camp
KWS self-catering accommodation: Allia Bay Guesthouse Campsites: Turkana Campsite, Sunset Strip Camp
Best time to visit
All year round
Activities
Game viewing, bird watching,camping.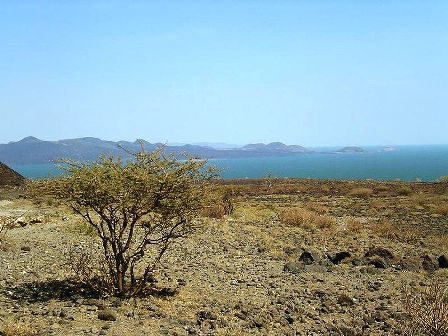 Other Related Pages
Nairobi animal orphanage
|
Ruma National Park in Kenya
|
Saiwa Swamp National Park
|
Samburu National Reserve
|
Shimba hills National Reserve
|
Sibiloi National Park in Kenya
|
The Tana River National Primate Reserve
|
Tsavo East National Park
|
Tsavo West National Park
|
Watamu Marine National Park and Reserve
  |
---