Tsavo West National Park Attractions and Wildlife

The north-eastern boundary along the highway adjoins Tsavo East National Park, but Tsavo West national park has a more varied topography and a more diverse array of habitats than its neighbour.
Tsavo West National Park covers approximately 30 per cent of Kenya's park area, and contains a diversity of habitats, wildlife and a mountainous scenic landscape.
The park is a vast expanse of savanna stretching from Mtito Andei, along the Mombasa-Nairobi road and south to the Tanzanian border.
The park's habitats include open plains alternating with nsavannah bush and semi desert scrub, acacia woodlands; rocky ridges and outcrops and more extensive ranges and isolated hills; belts of riverine vegetation; palm thickets and on the Chyulu hills, mountain forest.
There are numerous rocky outcrops and ridges and part of the park, towards the Chyulu Hills, is of recent volcanic origin with lava flows and ash cones including the Shetani lava flow, an example of a recent volcano.
In the far south-western corneron the Kenya Tanzania border is Lake Jipe, part of which isin the park. This very attractive lake is fed by runoff from Mount Kilimanjaro and the North Pare mountains.
At Mzima Springs, in the Northof the park, water that has filtered underground from theChyulu Hills gushes from below a lava ridge into a series ofclear pools
Visitors have an opportunity to view animals under water througha glass house, man eaters – caves where 2 lions were shot in Tsavo West by Col. Patterson, railway bridge forms boundary.
Contact details
PO Box 71, Mtito Andei Tel: +254 (0)56 22120, 22483 www.kws.go.ke
Contact person
Senior Warden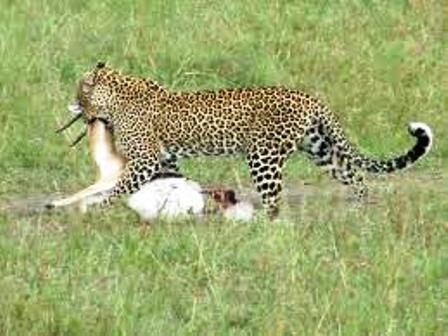 Leopard in Tsavo West National Park
Location
South Eastern Kenya, inland from Mombasa
Distance from Nairobi
232 km
Size
9065 square km
Park fees
Go to www.kws.go.ke or contacttour operator.
Climatic conditions
Temperature ranges from 20-30°C and rainfall between 200 and700mm. Two rain seasons: long rains in March and April and shortrains – November and December.
---
Major attractions
---
Recent volcanoes, lava flows and caves with potential forgeological and cave  exploration, and hiking. Mzima Springsand underwater hippo and fish watching, Ngulia Rhino Sanctuary,Lake Jipe, Mount Kilimanjaro, elephant, diverse bird and plant species.
Wildlife
Leopard, cheetah, wild dogs, buffalo, rhino, elephant, giraffe,zebra, lion, plains game, crocodile, mongoose, hyrax, dik-dik,lesser kudu and porcupine. Prolific birdlife features 600recorded species.
---
Access
---
Roads: The main access routesare through Chyulu Gate from Amboseli and Mtito Andei Gate from Nairobi (240 km) and Mombasa. Visitors from Mombasaalso use Tsavo Gate near Manyani.
The park can also be reached via the Taveta-Voi road through Maktau, Ziwani and Jipe gates. Air: Kamboyo, Kilaguni, Tsavo Gate, Jipe, Kasigau, Finch Hattons, Ziwani and Maktau airstrips are in good condition.
Accommodation
Lodges: Ngulia Lodge, Kilaguni Serena Lodge, Severin Safari Camp/Lodge, Finch Hattons KWS self-catering accommodation: Kamboyo Guest House
---
Best time to visit
---
All year round
Activities
Boat excursion at Lake Jipe; bird watching at Lake Jipe;annual bird ringing at Ngulia lodge; hill and rock climbing at Chaimu and Ngulia Hills; caving at Shetani Caves.
---
Other Related Pages

---
Nairobi national park
|
Aberdare National Park in Kenya
|
Amboseli National Park in Kenya
|
Arabuko Sosoke Forest National Park
|
Lake Nakuru national park
|
Mount Kenya national Park
|
Ol Donyo Sabuk National Park
|
Mount Longonot National Park
|
Mwea National Reserve in Kenya
|
Nasolot National Reserve
|
Ndere Island National Park in Kenya
|
Bisanadi National Park
|
Buffalo Springs and Shaba National Reserve
|
Chyulu Hills National Park
|
Hells Gate National Park
|
---
Tsavo West National Park animals watering hole
List of Safari Lodges and Hotels in Tsavo West Park Kenya

Kilaguni Serena Safari Lodge › |
Voyager Ziwani, Tsavo West › |
Kiboko Camp › |
Sarova saltlick Game Lodge › |
Sarova Taita Hills Game Lodge › |
Ngulia Safari Camp › |
Severin Safari Camp › |
Finch Hattons Safari Camp › |
Lions Bluff Lodge › |
Rhino Valley Lodge › |
Kiwanjani Eco Lodge › |
Man Eaters Camp › |
Ngulia Safari Lodge › |
Lake Jipe Safari Camp › |
---
---