Nasolot National Reserve
Do you need information about Nasolot National Reserve in Kenya? On this site, we will guide to nasolot game reserve and its tourist attractions.
Nasolot National Reserve was gazetted in 1979 and consists 9,200 hectares of beautifully rugged land.
It is located to the north of Mount Melo at over 3,000 metres.
There are some spectacular views to be had, although most of the reserve is plains. Because of its remote location there are few visitors.
Contact details
PO Box 62, Kapenguriawww.kws.go.ke
Contact person
Senior Warden
Location
West Pokot District, Rift Valley Province
Distance from Nairobi
528 km north-west of Nairobi
Size
92 square km
Park fees
Go to www.kws.go.ke or contact tour operator.
Climatic conditions
Hot and arid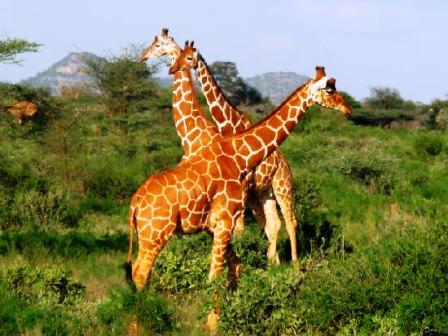 Major Attractions in Nasolot
Rocky out crop at the periphery of the reserve called NasolotHill; game viewing.
Wildlife in Nasolot
Elephant, lesser kudu, bushbuck, duiker, lion, leopard, Kirk's dik-dik, spotted hyena, jackal, impala, Sykes' monkey,beisa and fringe-eared oryx, waterbuck, olive baboon, buffalo,gazelle and hippo.
Access to Nasolot
Road: The reserve is 146 kmnorth of Kitale to the west of the A1 Kitale-Lodwar road. Thereserve's gate lies 6.2 km off the A1 main road.
Air: There are air strips at Turkwelldam and Kaputirr
Accommodation in Nasolot
There are no accommodation options in the reserve. However self-catering accommodation and a campsite is available atthe Marich Pass Field Studies Centre located 80 km south ofthe reserve off the A1 Kitale- Lodwar road.
Best time to visit
All year round
Activities in Nasolot
Game viewing, bird watching, sport fishing and boating at Turkwell dam, nature walks, camping.