Nguuni Nature Sanctuary
Ever visited Nguu Tatu hill near Mombasa Kenya?One of the best attractions of mombasa area is a visit to Nguuni Nature Sanctuary. "What a fantastic place for a party, celebration or even just a barbeque?"
A great place for having a cold drink as you light a campfire, tucked away in the bush while watching the sunset and only had to drive a few miles from Bamburi to enjoy this!
Nguuni reserve has giraffes, ostriches, waterbucks and different species of birds to watch while you enjoy your BBQ.
For a very affordable amount, you can book a fixed table, bring your own food and drinks as they provide the fire and grill for you while you sit back and enjoy the sunset.
Who would have thought you could sit having a drink by a camp fire and feel like you were in the bush just a mile or so from Bamburi township and around 3kilometers from Bamburi Cement Works. It was a first for me, but I'm sure it won't be the last.
Up on the Nguu Tatu Hills (3 hills), you are in completely natural surroundings, and can see virtually nothing but unspoilt bush around you, (except in one direction where Bamburi Township is below you and quite close by).
The reserve itself has giraffes, elands, oryx, waterbucks, ostriches and bird watching bandas.
You can book one of the big fixed tables for 2,000 shillings, then its 300 shillings per person, bring your own food, and drink, they provide the fire and the big charcoal grill, and a guy to man it.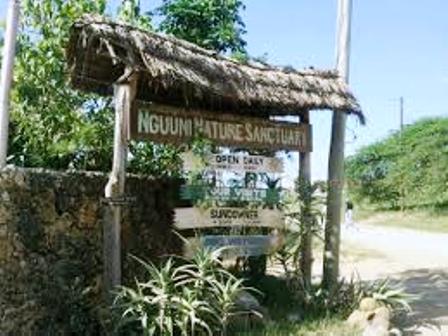 Other Places of Tourism Attractions 

Maralal Wilderness
› |
Mombasa Fort Jesus
› |
Mombasa North Coast Beaches
› |
Mombasa South Coast Beaches
› |
Mount Kenya
› |
Mt Elgon
› |
Mount Longonot
› |
Nairobi Giraffe Centre
› |
Nairobi National Museum
› |
Rhino Charge Festivals
› |
Safari Sevens Rugby Tournament
› |
Shedrick Elephant Orphanage
› |
Shimba Hills
› |
Southern Kenya Tourist Attractions
› |
Swahili Coast
› |
Taita and Chulu Hills
› |
Tana River Delta Destinations
› |
---