Mombasa Fort Jesus
Fort Jesus is somewhere you should visit if you're interested at all in seeing one of Kenya's historical landmarks. Its, located in Mombasa, Kenya, was in 2011 recognized by UNESCO as a World Heritage Site
Its  an interesting place to spend a day exploring the gun turrets, battlements and houses within its walls
Its a Portuguese fort built in 1591 by order of King Philip I of Portugal, then ruler of the joint Portuguese and Spanish Kingdoms, located on Mombasa Island to guard the Old Port of Mombasa, 
---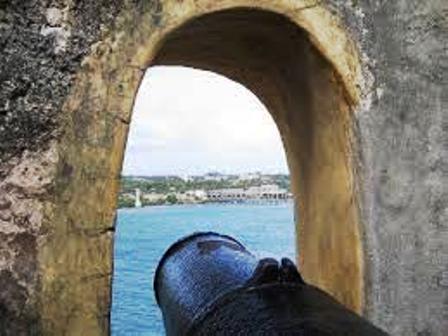 For those who want to learn more about the struggle for Fort Jesus, the Fort plays host to a spectacular sound and light show 3 nights each week.
Visitors are welcomed into the Fort by guards in flowing robes brandishing flaming torches.
They are led to a specially designed and choreographed show that uses lights, sound effects and costumed actors to bring to life the long and turbulent history of the Fort.
Today the majestic Fort Jesus is a National Monument, standing high over the Mombasa harbor.
Fort Jesus is an interesting place to spend a day exploring the gun turrets, battlements and houses within the walls.
There is an excellent Museum and trained guides available.
At the end of the show, a candlelit dinner is served in the open courtyard of the Fort, under the stars.
This wonderfully atmospheric night out is the perfect way to end the day, and learn more about the history of Mombasa.
The sound and light show can be combined with a sunset dhow cruise on Mombasa harbour.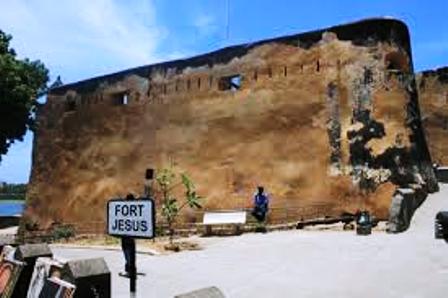 Some Other Places of Tourism Attractions 
Nguni Nature Sanctuary
› |
Ngomongo Village Mombasa
› |
Mamba Village Mombasa
› |
Jain Temple
› |
Adventure in Kenya
› |
Night Clubs
› |
Fishing and Diving
› |
Gedi Ruins
› |
Hallers Wildlife Park
› |
Karen Blixen Museum
› |
Northern Region Destinations
› |
High Mountains Destinations
› |
Kenya Mountains and Hills
› |
Kenya Ocean Beaches
› |
Tour Destinations Eastern Kenya Destinations
› |
---