Udzungwa Mountain National Park
The attractions of Udzungwa Mountain National Park in Tanzania are far better than other national parks in Tanzania. This page will guide you if you need more information about Udzungwa Mountain Park
Udzungwa Moutain covers an area of 1900 square km, is the largest and most biodiverse of a chain of a dozen large forest-swathed mountains that rise majestically in Eastern Tanzania.
Known collectively as the Eastern Arc Mountains, it has also been dubbed the African Galapagos for its treasure-trove of endemic plants and animals, most familiarly the delicate African violet.
Its center piece is the Sanje River, which re-invents itself as a spectacular waterfall, plunging 170 meters through the forest to land in the mists of the valley below.
Udzungwa is described as a "Primate Park" due to the ten species of primate living in it's pristine forests.
Four of the species are endemic including the Iringa red colobus and Sanje Crested Mangabey (discovered in 1979) both occur nowhere else in the world. Although quiet hikers are more likely to see the black and white Colobus Monkeys.
Ornithologists are attracted by the avian wealth of more than 400 species. There are no permanent luxury camps here, but it is closeenough for a day trip from one of the places at Mikumi.
Location of Udzungwa Moutain Park:
The park is in the Iringa and Morogoro regions, just south of Mikumi, between Ruaha and Selous. It is bordered by the great Ruaha River to the north and the Mikumi Ifakara road to the east. It is a 5 hours drive from Dar-es-salaam.
Things to Do in Udzungwa Moutain Park: Hiking
Time to visit Udzungwa Moutain Park:
Visit Udzungwa year around but be prepared for rains spend from 1 day to several, depending on your interest in hiking
Animals in Udzungwa Moutain Park:
11 species of Primates, Buffalo, Elephants, 400+ bird species including the rare rufous - winged sunbird and a new species of the partridge - like francolin, 3 endemic Reptiles (a Gecko, a Skink and a Chameleon), Millipedes, a Tree Frog and more than 70 species of Spiders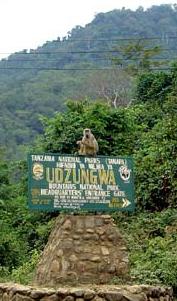 ---
Other Best Game Parks in East Africa

Mahale Mountain Park
› |
Udzungwa National Park
› |
Tarangire National Park
› |
Serengeti National Park
› |
Serengeti Wildbeest Migration
› |
Ruaha National Park
› |
Rubondo National Park
› |
Ruma National Park
› |
Saadani Nation park
› |
Selous
› |
Mikumi
› |
Mkomazi
› |
Gombe Stream
› |
Kitulo
› |
Katavi
› |
---