Katavi National Park in Western Tanzania
Your free guide before you travel Katavi National Park in Western Tanzania. The name Katavi immortalizes legendary hunter "Katabi", whose spirit is believed to posses a local Tamrind tree tinged with offering from locals begging his blessings.
Katavi National Park covers an area 4,471 square km and is to the east of Lake Tangayika. Isolated, untouched and with few visitors, Katavi is a true wilderness, providing a taste of the untouched Africa.
As Tanzania's third largest national park it would attract large numbers of visitors, but it is in the remote Southwest part of Tanzania and difficult to reach.
Major attractions include Lake Katavi with its vast short-grass plains in the north, palm-fringed Lake Chada in the south-east and the Katuma River.
It is best to visit during the dry seasons (June through October) when water is scarce and for miles along the Katuma River,animals congregate in unbelievable numbers.
Towards the end of the dry season, up to 200 hippos might gather in one place and as more gather, the male rivalry heats up with ferocious territorial fights. Katavi also boasts Tanzania's greatest concentration of Hippos and crocodiles.
Location of Katavi National Game Park:
Western Tanzania, reachable only with shared charter, usually from Arusha or Dar-es-salaam. Or a day's drive from Mbeya, or in the dry season Kigoma.
Things to Do in Katavi National Game Park:
Game Drives, Walking Safari, Fly Camping
Time to visit Katavi National Game Park:
Stay at least 3 or 4 nights. Go in dry seasons: June to October and late-December to early March.
Animals in Katavi National Game Park:
Thousands of Elephants, several herds of 1000-plus Buffalo and an abundance of Giraffe, Zebra, Impala, Hippos and Reedbuck, the rare honey colored puku antelope,roan antelope & topi are one of the parks richest wildlife viewing rewards. Not to mention the numerous Lion prides and Spotted Hyena clans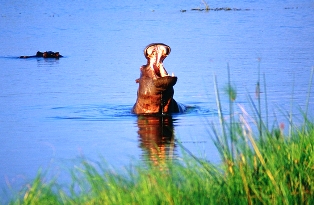 ---
Other Best Game Parks in East Africa

Mahale Mountain Park
› |
Udzungwa National Park
› |
Tarangire National Park
› |
Serengeti National Park
› |
Serengeti Wildbeest Migration
› |
Ruaha National Park
› |
Rubondo National Park
› |
Ruma National Park
› |
Saadani Nation park
› |
Selous
› |
Mikumi
› |
Mkomazi
› |
Gombe Stream
› |
Kitulo
› |
Katavi
› |
---