Mikumi National Park Hotels and Lodges

You are Here:
Home

›

All Hotels

› Mikumi National Park Tanzania Hotels
Looking for information about Mikumi National Park in Southern Tanzania? This page will guide you to know more about Hotels and Safari Lodges of this game reserve in Tanzania. The Park is now the fourth largest of Tanzania's parks and is one of the least well known on an international level. It has an area of 3230 square km, is easily accessible by road and is the closest to Dar-es-salaam. The park gets its name from the Borassus palm trees that are common in the area.
---
Our List of B&B Hotels in Mikumi Tanzania

Tan Swiss › |
Mikumi Wildlife Camp › |
Genesis Motel › |
---
Vacation and Safari Lodges in Mikumi Park Tanzania

Foxes Safari Camp › |
Stanley's Kopje Camp › |
Vuma Hills › |
Only a small section of the park, about 20% has been developed for tourism and it lies to the north of the highway. South of the road Mikumi shares its border with the Selous Game Reserve, but this largely wooded hilly area remains fairly inaccessible.
The main feature of Mikum National Park is the extensive Mkata River Flood Plain, comparable to the open grasslands of the Serengeti.
The plain is flanked by the Uluguru Mountains to the north, and the Udzungwa Mountains to the south.
A typical game drive will reveal elephant, giraffe, zebra, buffalo, warthog, wildebeest and impala all in impressive numbers.
There is even the chance to see lion, hyena, jackal and eland.
The bird-life at Mikumi is exceptional, with one guest seeing 180 species without leaving his lodge! It is perhaps the most reliable place in Tanzania to view the eland, the world's largest antelope.
Location of Mikumi National game Park:
It is only 300 km away from Dar-es-salaam on the Tanzania and Zambia Highway, between Selous and Ruaha. 4 hours drive or a 1.5 hours flight from Dar-es-salaam.
Things to Do Mikumi National game Park: Game drives
Time to visit Mikumi National game Park:
The park is accessible all year around. 1 night minimum, up to 3 nights.
Animals Mikumi National game Park:
Lions, Zebras, Wildebeests, Impalas, Buffalos, Crocodiles, Elephants, Giraffes, Hippos, Elands, Greater Kudus and Sable Antelopes, 400 Bird Species, some of which are Eurasian migrants commonly seen between October and April.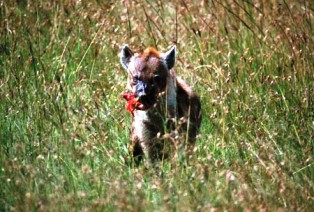 ---
Other Best Game Parks in East Africa

Mahale Mountain Park
› |
Udzungwa National Park
› |
Tarangire National Park
› |
Serengeti National Park
› |
Serengeti Wildbeest Migration
› |
Ruaha National Park
› |
Rubondo National Park
› |
Ruma National Park
› |
Saadani Nation park
› |
Selous
› |
Mikumi
› |
Mkomazi
› |
Gombe Stream
› |
Kitulo
› |
Katavi
› |
---