Tarangire National Park in Tanzania Africa,
Get a clear view and picture of Tarangire National Park in Tanzania Africa.
The Park has an area of 2,600 sq km and is named after the Tarangire River that flows through the park throughout the year.
This park is known for its elephants.
You will see these enormous creatures travel in families and you surely will not miss the extraordinary care they take of their young.
The elephants tend to travel in packs and in the same paths as they have taken year after year. When they see your vehicle coming closer they will gather around their young to protect them and lead them on their way. Here you will have the opportunity to simply sit and watch.
Also in this park is the Tarangire River. This river winds through the middle of the park providing nourishment for the animals and great viewing for visitors. Daily large herds of animals and birds gather around this river so you will be sure not to miss anything.
It also boasts many Baobab trees, impressive trees that can live for thousands of years. Animals can be found in the rainy seasons, but the concentration of wildlife tends to be better during the dry seasons.
Location of Tarangire:
The park is 115 km from Arusha town, almost directly between Arusha and Ngorongoro Crater.
Things to Do in Tarangire:
Game Drives, Guided Walks (from select accommodations only) and Night Game Drives (from Tarangire Treetops).
Time to visit Tarangire:
June to October is a good time to visit as part of your Tanzania safari as theanimals from the park and surrounding game controlled areas gather at thepermanent source of water. Minimum of 1 night but 2 is better.
Animals in Tarangire:
Thousands of animals including wildebeest, zebras, elands, elephants, buffaloes, hartebeests and more migrate from the dry Maasai steppe to the Tarangire river. Not suprisingly, lions and other predators find the place attractive. Has more than 550 bird species!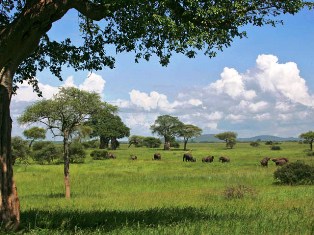 ---
Other Best Game Parks in East Africa

Mahale Mountain Park
› |
Udzungwa National Park
› |
Tarangire National Park
› |
Serengeti National Park
› |
Serengeti Wildbeest Migration
› |
Ruaha National Park
› |
Rubondo National Park
› |
Ruma National Park
› |
Saadani Nation park
› |
Selous
› |
Mikumi
› |
Mkomazi
› |
Gombe Stream
› |
Kitulo
› |
Katavi
› |
---