Nairobi Central Park
Central Park could be mistaken to be an extension of its better known neighbor Uhuru Park. It occupies an area bounded by Kenyatta Avenue, Nyerere Avenue and Uhuru Highway, behind Nairobi Serena Hotel.
Nairobi Central Park is literally across the road from the more widely known Uhuru Park, but has a completely different feel about it
.Whereas Uhuru is busy and exciting, Central Park is more relaxed and serene. Typified by the locals, who lie sleeping or snoozing on the grass, Central Park seems for a place to relax and take in the surroundings.
There is a small childs playground at the northern end, and a few small stalls selling food and drink, but for the most part, you would visit Central Park to chill and relax, not for the entertainment it offers.
So perhaps you could have some fun over at Uluru Park, and then come to Central Park to sleep it off!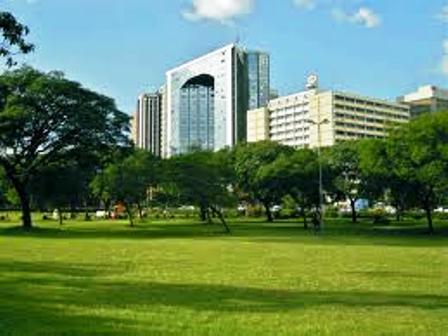 Attractions
Much like its neighbor, Central Park has expansive lawns and well maintained gardens, interspersed with shade trees. At one end of the Park is a Children's playground with a wide range of facilities for Children to play on.
A huge monument built in 1988 to celebrate 10 years of former President Moi's rule greets you as you enter the park from Uhuru Highway. Professional photographers like to hang around this monument and take pictures of visitors for a fee.
Picnicking at this park is a favorite pastime with Nairobi residents on weekends and public holidays.  The Children's park is also a favorite with families.
Getting There
The Park's central location in Nairobi's central business district makes it easily accessible to residents from all corners of the city.
Entry Requirements
The Park is open for free to the public. The Nairobi City Council, however, charges for use of toilet facilities in the Park.
Other Pages of Interest in Nairobi

Kenya Nairobi Shopping Venues
› |
Nairobi Central Park
› |
Kenya National Archives
› |
Kenya Jamia Mosque
› |
Kenya Railway Museum
› |
Nairobi Snake Park
› |
Ngongo Hills
› |
Kenyatta International Conference Centre
› |
Uhuru Gardens Memorial Park
› |
Brown Cheese Factory Nairobi
› |
Nairobi Arboretum
› |
Sadili Oval Sports Academy
› |
Bomas of Kenya
› |
Wild Earth Day Spar
› |
Nairobi Kibera Slum
› |
Karura Forest Nairobi
› |
---