Karura Forest Reserve Nairobi Kenya
When I went to Karura Forest Reserve for the first time, I was awed by its peace, beauty and serenity.
I am sure I walked on every trail provided there. Now its my personal peaceful get-away from the hussles of the city, Oloolua is home to the Institute of primate research and have a bio-medical research facilities here, upon arrangement you may have a tour of the facilities.
The Karura Forest Reserve is an urban upland forest on the outskirts of Nairobi, the capital of Kenya. This remarkable geographical location and natural resource is one of the largest gazetted forests in the world fully within a city limits. It covers an area of about 1,000 ha (2,500 ac) and today is a a shining example of how country-based corporate social responsibility and individual philanthropy can serve to secure and protect a country's natural resources.
The forest offers eco-friendly opportunities for Kenyans and visitors to enjoy a leafy green respite from the hustle and bustle of the city to walk, to jog, or simply to sit quietly and experience the serenity of nature in all its diversity.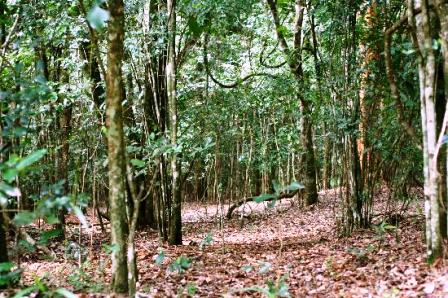 Its Unspoilt, and it takes you closer to nature as one can be,The waterfalls are magical and would bet the writer Ngugi wa Thiongo in his book 'THE RIVER BETWEEN' was describing this place,
I also went to the caves believed to be the hide out of the mau mau freedom fighters during the colonial era., from there we went down the river, there were giant bamboos, sound of the Mbagathi river and birds, it was cool and we rested a bit at the benches provided, very magical, then to the swamps, a hair raising experience especially the guide was saying its a hide out for snakes-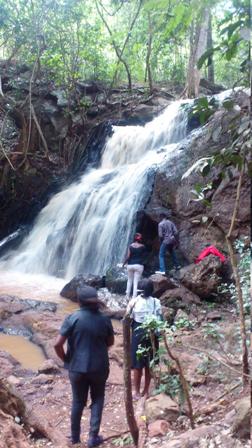 I fear snakes but was not gonna be left behind-, we never saw one but the papyrus were way long and crossing the bridge made me think of the movie Anaconda- you know just in case haha!
We went further on up through the forest occasionally coming across giant cactus and the frequent beautiful butterflies, to the view point of ngong hills, to the waste management area- lots of big birds there and then to the picnic sight where we had our lunch as we enjoyed the atmosphere.
From there we hiked back to the camping site complete with benches, drop toilets and trash bins offers a nice setting for couples or groups to rest, play or enjoy a meal within the forest.
For those wishing to spend more than a day in the forest, a secure campsite is also available complete with tap water, drop toilets, and firewood for lighting a bonfire.
You'll have to bring your own tent, food and cooking utensils though.
Upon exiting we rested at some bences near a wooden tower that was constructed some years back for viewing a Crowned Eagle's nest that was situated nearby.
Scientists used this tower to study the Crowned Eagle's behaviour in its natural habitat.
Sadly, human activities and settlements close to the forest have resulted in the birds migrating from this haven.
Would recommend any one to this place! I only have request to all travellers which I saw wasn't respected much 'LEAVE NO TRACE BUT FOOTPRINTS' there are many litter bins all over the place yet visitors still dropped plastic bottles all over.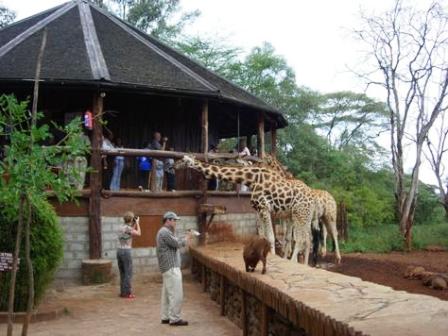 Other Pages of Interest in Nairobi
Kenya Nairobi Shopping Venues
› |
Nairobi Central Park
› |
Kenya National Archives
› |
Kenya Jamia Mosque
› |
Kenya Railway Museum
› |
Nairobi Snake Park
› |
Ngongo Hills
› |
Kenyatta International Conference Centre
› |
Uhuru Gardens Memorial Park
› |
Brown Cheese Factory Nairobi
› |
Nairobi Arboretum
› |
Sadili Oval Sports Academy
› |
Bomas of Kenya
› |
Wild Earth Day Spar
› |
Nairobi Kibera Slum
› |
Karura Forest Nairobi
› |
---