Kenya Railway Museum
The Nairobi Railway Museum is a railway museum in Nairobi, Kenya, adjacent to Nairobi railway station. Containing exhibits from the defunct East African Railways,
We had an afternoon in Nairobi on our transfer day back to Uganda and thanks for my friend's researches, discovered the Kenya Railway Museum.
I didn't expect a detailed guided tour but was absolutely delighted by the young man who took us through the exhibits teaching us about the Kenya Railroad and the important role it played in building the nation.
The exhibits were well kept though the rolling stock needs some attention.
It was good to see a group from the University of Nairobi at the Museum and our safari guide, who came as well to the Museum, told me he would bring his daughter.
---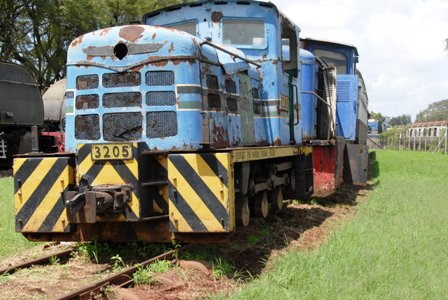 If you are in Nairobi, it's well worth a visit.
If you enjoy trains, this is not to be missed.
It's unfortunate that the maintenance isn't what it should be, but they have done the best they can with the funds available to them.
Many of the trains were used in famous movies shot in Kenya.
though most are unrecognizable b/c parts are missing, it's now painted different, etc.
There are massive brass pieces that have been painted over.
I wonder what these looked like in their original form.
That I'm aware of, none of the engines are in operating condition.
If you love railroading don't miss this. Step back into time. Sit on the same seat Teddy Roosevelt sat on.
Lay on the same bed man eating lions dragged killed an Englishman.
See and sit in steam locomotives from the 19th C. You might converse with your friends over a gin and tonic about your Kenyan safari and they might well share their experience BUT you can one up them if you visit this museum.
I found it fascinating. Would not have missed it. It is located at the extreme right hand end of the present Nairobi station. 
Other Pages of Interest in Nairobi
Kenya Nairobi Shopping Venues
› |
Nairobi Central Park
› |
Kenya National Archives
› |
Kenya Jamia Mosque
› |
Kenya Railway Museum
› |
Nairobi Snake Park
› |
Ngongo Hills
› |
Kenyatta International Conference Centre
› |
Uhuru Gardens Memorial Park
› |
Brown Cheese Factory Nairobi
› |
Nairobi Arboretum
› |
Sadili Oval Sports Academy
› |
Bomas of Kenya
› |
Wild Earth Day Spar
› |
Nairobi Kibera Slum
› |
Karura Forest Nairobi
› |
---