Kenyatta International Conference Centre
The Kenyatta International Conference Centre is a 28-story building located in Nairobi,
Should i say "Kenyatta International Conference Centre, A master piece of inspiration and heritage of Kenyans"? of course yes it is the only building that says you know Kenya.
---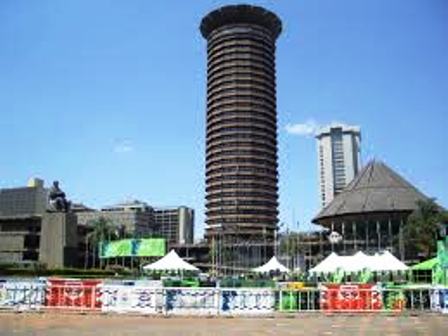 It is the Iconic symbol of Kenya. No picture says u know Kenya if it does not have KICC in the background.
It is the only building within the city with an helipad that is accessible to public. Any visitor to the City of Nairobi should set there bearings from here.
The Kenyatta International Conference Centre fondly refered to as the KICC was constructed in the late 1960s and opened its door to the most prestigious global conference of the time to ever come to african soil, the IMF/World bank conference in September 1973.
Of the buildings built that time, the KICC is the most eco-friendly and most environment conscious structure; its main frame is constructed with locally available materials Gravel, sand, cement and wood, it has wide open spaces which allows for natural aeration and natural lighting.
The tower is built around a concrete core and it has no walls but glass windows which allow for maximum natural lighting.
It has the largest halls in eastern and central Africa. KICC is the most sentimental building to all Kenyans, most of whose interaction with the city started with this building at their young age i.e during national schools music festivals !!!!
This building is the only place in Nairobi to get a proper cityscape view.
The entrance fee is 400sh, and you will be led to a special elevator up to the rooftop, which houses a helipad and viewing deck. Since Nairobi is generally a low-rise city, you'll get a pretty unobstructed view across the different sections of the city.
I was happy to have a very nice guide who welcomed me and provided a detailed explanation of different places you can see from the rooftop and their significance, as well as some general history.
(No extra cost to you and helpful since there is no signage). Nairobi is not the prettiest city from the ground, but from the sky the railway museum, Parliament building, central park and downtown area actually make for a picturesque backdrop.
I was actually the only one up there for a while. The convention center itself is a very out-dated concrete building and sorely in need of a make-over.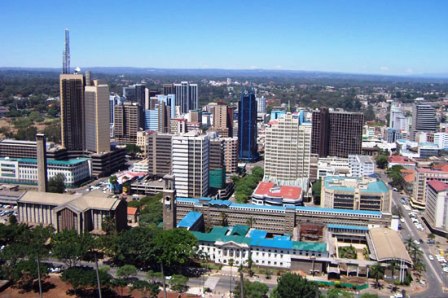 Other Pages of Interest in Nairobi
Kenya Nairobi Shopping Venues
› |
Nairobi Central Park
› |
Kenya National Archives
› |
Kenya Jamia Mosque
› |
Kenya Railway Museum
› |
Nairobi Snake Park
› |
Ngongo Hills
› |
Kenyatta International Conference Centre
› |
Uhuru Gardens Memorial Park
› |
Brown Cheese Factory Nairobi
› |
Nairobi Arboretum
› |
Sadili Oval Sports Academy
› |
Bomas of Kenya
› |
Wild Earth Day Spar
› |
Nairobi Kibera Slum
› |
Karura Forest Nairobi
› |
---