4 Days Uganda Safari to Ssese Island
This is the guide of 4 Days Uganda Safari to Ssese Island in Lake Victoria  where you will enjoy a trip by boat or steamer to Ssese Island, exploration of the Island and the beautiful equatorial forest, lush forest walks, white sandy beaches and view of birds and game including the shy Sitatunga antelope, chimpanzees and colorful blue waters of Lake Victoria.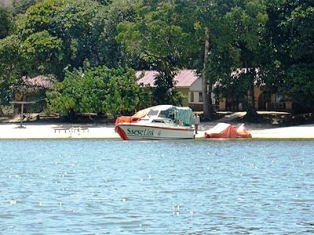 ---
Itinerary:
---
Day 1:
Morning transfer for the boat trip to Ssese Island and on arrival, transfer to Islands Camp for check in.
In the afternoon, explore the Island which belongs to Kalangala District and lie in the north-western section of Lake Victoria 45-minutes by the local ferry from Bukakata to Bugoma on Buggala, the largest of the islands.
Many of the 84 islands are uninhabited except for a few fishermen, so the forests and swamps which abound around some of the coasts make the islands a perfect habitat for birds.
It should be easy to spot the whale-headed Stork and the many herons and geese, but more exclusive birds include the Grey Parrot, kingfishers and Fish Eagles.
The wildlife on the Islands includes hippo and crocodile, found near the shores. Waterbuck roam freely, as does the shy Sitatunga antelope. In the forested areas, chimps and monkeys swing from the trees.
Vervet and colobus monkeys are also seen as is a prolific variety of water and forest birds including hornbill, turaco, flycatcher, weaver, fish eagle, paradise flycatcher, colorful butterflies. Dinner and overnight at Islands Club.
Days 2&3:
Spend days exploring the Ssese Islands with forest walks which offer excellent bird watching or engage in sport fishing.
There is a cacophony of jungle sounds to marvel accommodation is on full board at the Islands Club, which is set beneath a high forest just off a white sandy beach and is a combination of tented and en-suite wooden cabins with each cottage having a bar, water-closet toilet and shower.
Day 4:
In the morning after breakfast transfer to the boat for the ride back to the port to the mainland.
The package includes:
Fullboard accommodation, Excursions, Transportation.
---
Other Safaris in Uganda and other East African Countries
Uganda Safari1
› |
Uganda Safari10
› |
11 Days Uganda Safari - Wildlife
› |
8 Days Uganda Safari12
› |
2 Days Uganda Safari13
› |
4 days Uganda Safari14
› |
4 days Uganda Safari5
› |
4 Days In Uganda Safari2
› |
4 Days Safari to Ssese Island
› |
Safari to Muchison Falls Uganda
› |
4Days Uganda Safari to Bwindi Gorillas
› |
3 Days safari to Budongo Forest Primates
› |
3 Days Uganda Safari to Kibale Primates
› |
3 Days Safari to Lake Mburo National Park
› |
9 Days Safari to Ruwenzori Mountains
› |
Travelling in Kenya
› |
---