10 Days Uganda Safari to Bwindi and Queen Elizabeth National Park
So whats in a 10 days Uganda Safari about? Its a journey in the heart of Africa; where you will see the great game, track chimpanzees in Kyambura, hunt for the tree-climbing lions and further south visit the gorilla parks; Bwindi and Mgahinga. In addition to gorilla tracking, climb a volcano or go birding.
---
Itinerary:
---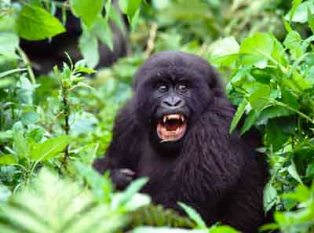 Day 1 
Arrive at Entebbe Airport where you will be met by the guides and transferred to Windsor Lake Victoria Hotel, which is a classical colonial style spacious and elegant four star hotel, resting amid well manicured palm studded tropical gardens and overlooking Lake Victoria with mature grounds. First overnight spent at the Windsor Lake Victoria on bed & breakfast.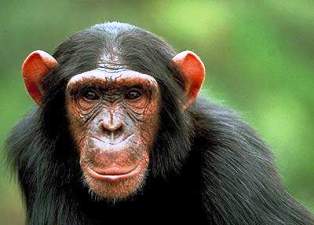 Day 2 
In the morning, transfer to Volcanoes offices in Kampala for your safari briefing on the great African adventure.
Later set off on the southbound road; visit the royal drum makers, stand on the Equator and in both hemispheres at the same time and bargain at the roadside markets bursting with fruit and vegetables.
Continue with your journey to the escarpment for an unforgettable sight seeing of the Great Rift Valley. Descend to the Queen Elizabeth National Park, keeping an eye out for the game.
Your overnight is spent at either the Mweya or Jacana Volcanoes Mobile Camps overlooking the forest.
The camps are of varying standards and are made up of 7 tents equipped with basic facilities. The food may not be sophisticated but benefits from the fresh fruit and vegetables supply.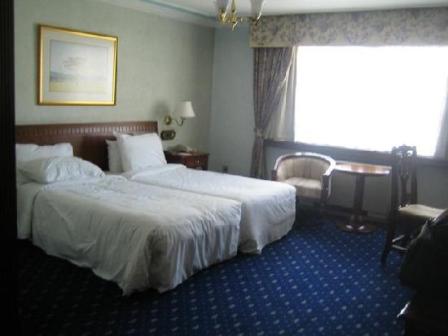 Day 3 
Either catch up on your sleep or go for an early morning game drive to seek out wildlife.
The game drives in Queen Elizabeth Park offer one of the highest biodiversity ratings of any game reserve in the world. It is also famed for its tree-climbing lions.
The Kyambura Gorge harbors habituated chimps whereas the Maramagambo Forest is home to an alluring selection of forest monkeys and birds, with flocks of flamingo residing at the crater lakes.
Return early evening for dinner and overnight at Mweya or Jacana Volcanoes Mobile Camps.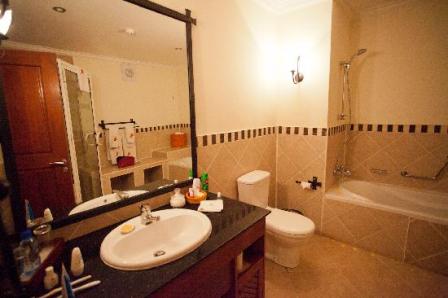 Day 4 
Make a full day excursion to Kyambura to track chimpanzees, one of man's closest relations, and also take a boat cruise on the famous Kazinga Channel which adjoins Queen Elizabeth Park to Lake Edward.
The trip passes through possibly the highest hippo concentration in Africa and many mammals may be seen drinking at the water's edge. Return to the Mweya or Jacana Volcanoes Mobile Camps for your overnight.
Day 5
After breakfast, have an early morning start for Bwindi Impenetrable Forest. Drive via Ishasha; home of the tree-climbing lion, or take a detour through farmland to Buhoma for a guided nature walk, time permitting.
Bwindi Forest is a magnificent verdant swathe across the steep ridges of the Albertine Rift Valley, and this ancient rainforest - one of the few in Africa to have flourished throughout the last Ice Age, is also home to roughly half of the world's mountain gorillas.
Dinner and overnight is spent at Volcanoes Bwindi Camp. The camp overlooks the primeval forest with monkeys, gorillas, chimpanzees, and birds screeching near the stream below.
It is the perfect place to experience the magic of this impenetrable forest. Access is via Kayonza airstrip (for larger planes via Kisoro or Ishasha) or a day and a half's drive from Kampala or a day's drive from Kigali.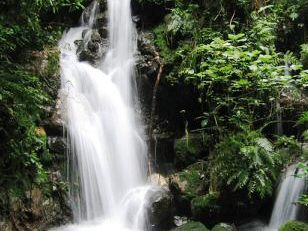 Day 6:
Either go gorilla tracking (subject to permit availability) and be prepared for a tough, arduous day in the jungle, but coming face to face with the great primates is worth it, or go for a guided nature walk.
Bwindi Impenetrable Forest located in southern Uganda, has about 300 mountain gorillas and two families are habituated.
It is also rich in other primates, some unusual bird species and butterflies. Accommodation on full board is at the Volcanoes Bwindi Camp.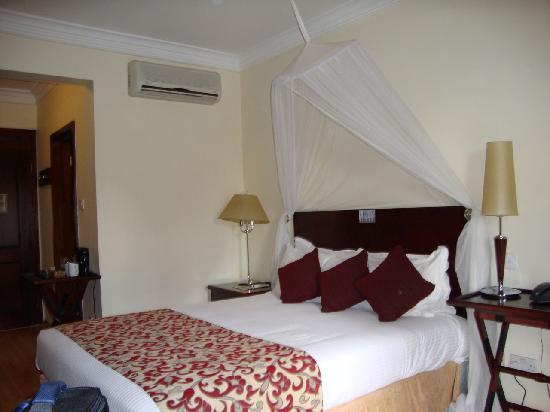 Day 7:
Leave for Mgahinga, making brief stops at places of interest including Kanaba Gap, to view the dramatic Virunga volcanoes and beautiful terraced hills.
Later continue to Mgahinga passing via Volcano Travelers Rest located in Kisoro in the valley below Parc National des Volcans on the Rwandan side and has four habituated gorilla families.
Thereafter proceed to Volcanoes Mount Gahinga Rest Camp to spend rest of day at leisure. The camp is located just outside Mgahinga and consists of nine thatched bandas and three tents all with private facilities.
It nestles in the shadow of the dramatic Virunga volcanoes, lying on the borders of Uganda, Rwanda, and Congo. The very journey to Gahinga is exhilarating.
On the edge of Mgahinga National Park, the Camp is the ideal place for the discerning visitor to stay while gorilla tracking, climbing a volcano, going birding, or swimming in the emerald waters of Lake Mutanda.
Day 8:
Day open for additional gorilla tracking, but subject to availability of permits can be provided at an extra fee.
The Virunga Conservation Area comprises three contiguous National Parks – Mgahinga National Park in Uganda, Parc National des Volcans (PNV) in Rwanda and Parc des Virungas commonly known as Djomba in the DRC.
About 350 mountain gorillas make their home in these afro-montane forests.
On the Ugandan side you can see the one gorilla family that is habituated or climb Volcano or go birding, swim in the emerald waters of Lake Mutanda.
It is home to a large variety of wildlife, including about half the world's critically endangered mountain gorillas. Overnight at Mount Gahinga Rest Camp.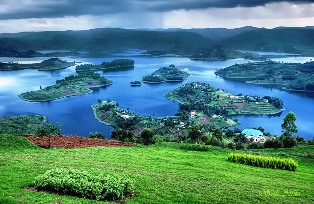 Day 9:
Either visit Lake Mutanda, take a canoe ride to explore Toyo Island, or continue directly to Kabale passing via Lake Bunyonyi.
In the afternoon take a walk in Kabale town or the nearby lake shore. Dinner and overnight will be at the White Horse Inn, a mid range hotel built in colonial style and comprises of 40 guests room, or at the Far Out Camp which is 8 tents with bathrooms nearby and is constructed on an Island on Lake Bunyoyi.
Day 10:
Return to Kampala proceeding on to Entebbe. Have a stopover to freshen up at the Windsor Lake Victoria Hotel until later transfer to the airport for your departure flight.
The package includes:
Bed & breakfast accommodation in Kampala, fullboard accommodation while on safari, boat trips and Park Entrance Fees, Chimpanzee and Gorilla permits as stated.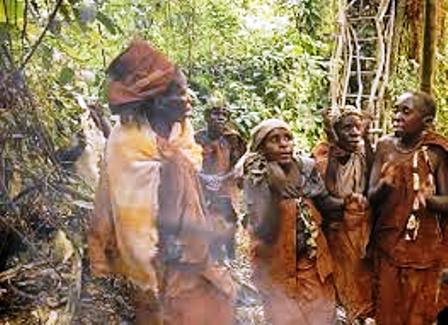 Other Safaris in Uganda and other East African Countries
Uganda Safari1
› |
Uganda Safari10
› |
11 Days Uganda Safari - Wildlife
› |
8 Days Uganda Safari12
› |
2 Days Uganda Safari13
› |
4 days Uganda Safari14
› |
4 days Uganda Safari5
› |
4 Days In Uganda Safari2
› |
4 Days Safari to Ssese Island
› |
Safari to Muchison Falls Uganda
› |
4Days Uganda Safari to Bwindi Gorillas
› |
3 Days safari to Budongo Forest Primates
› |
3 Days Uganda Safari to Kibale Primates
› |
3 Days Safari to Lake Mburo National Park
› |
9 Days Safari to Ruwenzori Mountains
› |
Travelling in Kenya
› |
---