4 Days Cheap Uganda Safari to Mt Elgon, Sipi Falls and Karamaoja
This is the guide to the 4 Days Cheap Uganda Safari where you will view the mesmerising Sipi Falls, hike in the Mount Elgon's extinct volcano, visit the Mount Elgon Conservation Center, the Karamojong tribe and their unique culture, the rock paintings at Kakoro and white water rafting at the River Nile.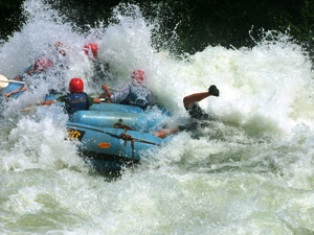 ---
Itinerary:
---
Day 1:
Depart in the morning for Sipi Falls with lunch en route. Have a walk to the falls as well as in the local shambas. Sipi Falls are Uganda's most romantic and beautiful waterfall, accommodation is spent at Sipi Falls Rest Camp a perfect place to relax for accommodation with its thatched cottages, it is built around a Governor's tiny retreat, overlooking the mesmerising Sipi Falls and the Karamajong plains. Full board at Volcanoes Sipi Falls Rest Camp.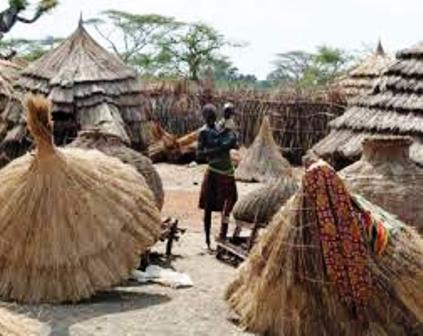 Day 2&3:
In Sipi either go on a hike to the Mount Elgon Conservation Centre or walk to the falls or spend time at leisure.
Explore cliffs and caves or meet the people in the dusty trading centre of Sipi.. Mt. Elgon is 4,321m high and within the 1145sq km of the Mount Elgon National Park.
An extinct volcano which in prehistoric times stood taller than Kilimanjaro does today.
Although the mountain straddles the Kenya border, its loftiest peak, Wagagai, lies within Uganda and is best ascended from the Uganda side. Dinner and overnight at Volcanoes Sipi Falls Rest Camp.
Day 4:
If time allows, you will visit the rock paintings at Kakoro and continue to the Source of the Nile at Jinja. There is an optional half-day rafting (on payment of supplement) at River Nile Later return to Kampala late in the afternoon.
---
Other Safaris in Uganda and other East African Countries
Uganda Safari1
› |
Uganda Safari10
› |
11 Days Uganda Safari - Wildlife
› |
8 Days Uganda Safari12
› |
2 Days Uganda Safari13
› |
4 days Uganda Safari14
› |
4 days Uganda Safari5
› |
4 Days In Uganda Safari2
› |
4 Days Safari to Ssese Island
› |
Safari to Muchison Falls Uganda
› |
4Days Uganda Safari to Bwindi Gorillas
› |
3 Days safari to Budongo Forest Primates
› |
3 Days Uganda Safari to Kibale Primates
› |
3 Days Safari to Lake Mburo National Park
› |
9 Days Safari to Ruwenzori Mountains
› |
Travelling in Kenya
› |
---