Njemps People and their Culture in Kenya
Who are the Njemps People in Kenya? The Ilchamus (sometimes spelled Ilchamus or Iltiamus, also known as Njemps), are a Maa people living south and southeast of Lake Baringo, Kenya. They number about 35,000 and are closely related to the Samburu living more to the north-east in the Rift Valley Province.
Their language is one of the Eastern Nilotic Maa languages, closely related to the Samburu language (between 89% and 94% lexical similarity), to the point of it being considered a Samburu dialect by some.
Together, Samburu and Ilchamus form the northern division of the Maa languages. [Heine 1980; Vossen 1982]
In their oral traditions, the Ilchamus economy underwent a succession of elaborations: from foraging and fishing to a sophisticated system of irrigation, and then this was mixed with pastoralism under the influence of Samburu immigrants and neighbouring Maasai.
These changes involved a series of embellishments in their culture and social organization. [Spencer 1998: 129-203].
However, this evolving system did not survive the challenges of the capitalist economy in post-colonial Kenya, leading to a more polarized society with diminishing prospects for the majority of Camus. [Little 1992]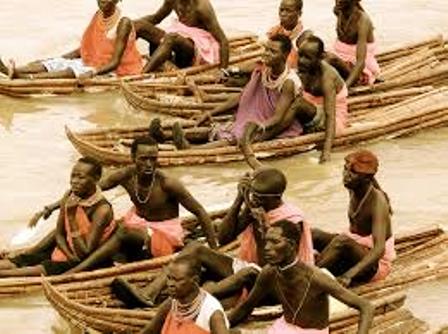 Traditional Canoes of the Chamus/ Jemps
The Chamus (Njemps) people speak the Samburu language and are often counted as Samburu people.
The Chamus (Njemps) lives in Baringo. Njemps are unique people who are the only pastoral, cattle herding, tribe who also fish unlike the other pastoralist tribes where eating fish is a taboo. The Njemps are linguistically related to both the Maasai and the Samburu, and possibly genetically related to one, or both of these tribes .
The Njemps have many clear cultural associations to both groups, and there are several theories as to their actual origin.
During the migration the Njemps developed a very different life style trying to maintain the Maasai and the Samburu nomads eschewing nomadic movement and they became sedentary agriculturists although the soil around the lake was not particularly fertile, they developed an effective system of irrigation and grew crops on the shore of the lake.
They are reported to be 12% Christian, while the Samburu are considered as 8-9% Christian.
More about Afican Culture
Kenya Culture
|
Akamba
|
British Colonialists
|
Crafts
|
Cultural Business Meetings
|
Cultural Communication
|
Cultural Eye Contact
|
Cultural Gestures
|
Gift Giving
|
Cultural Law
|
Cultural Music
|
Cultural Space
|
Cultural Time
|
How to Talk in Kenya
|
---