Full Day Tour to Rift Valley & Lake Nakuru
Here is the  kenya safari invitation to help you choose the best safari especially about a cheap full day Kenya safari from Nairobi to rift valley and lake nakuru national park.
Lake Nakuru National Park is known for its very shallow alkaline lake with the huge crowds of flamingo, landscape of marsh and grasslands alternating with rocky cliffs, stretches of acacia woodland and rocky hillsides of the Euphorbia.
---
Itinerary:
---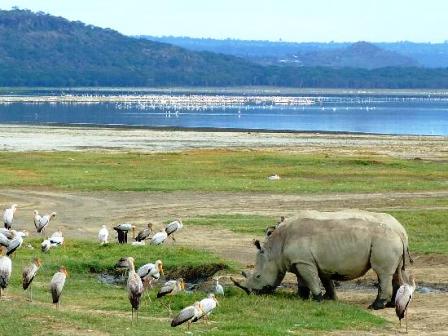 Depart in the morning to Lake Nakuru National Park and on arrival have a mid morning game drive in the park until lunch to be taken at Sarova Lion Hill Lodge. In the afternoon continue with game drive in the park.
:Lake Nakuru National Park located in the Great Rift Valley about 140km north-west of Nairobi and covers an area of 188 sq km.
It was first gazetted as a bird sanctuary in 1960 and upgraded to National Park status in 1968.
A northern extension was added to the park in 1974 and the lake was designated as a Ramsar site in 1990.
:The parks food chain is the cyanophyte spirulina platensis which can support huge numbers of lesser flamingo.
Other attractions include Lake Nakuru a very shallow strong alkaline lake 62 sq km set in a picturesque landscape of surrounding woodland and grassland next to Nakuru town.
The landscape includes areas of marsh and grasslands alternating with rocky cliffs and outcrops, stretches of acacia woodland and rocky hillsides covered with a Euphorbia forest on the eastern perimeter.
:Greater and Lesser Flamingo as well as other water birds and a variety of terrestrial birds numbering about 450 species in total can be found there.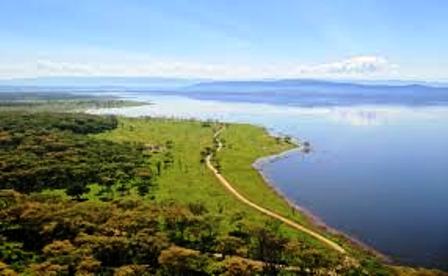 : There are about 56 different species of mammals including white rhinos, water buck, leopard lion and buffalo.
Features include Lion hill, Baboon cliff and out of Africa, Enasoit Hill, Honeymoon hill, Lion hill ridge and Makalia waterfall.
There is a unique vegetation of about 550 different plant species including the unique and biggest euphorbia forest in Africa and yellow acacia woodlands. In the late afternoon, exit the park and return back to Nairobi.
Other Related Pages
Kenya Mombasa Safari Vacation 7
› |
Kenya Mombasa Safari Vacation 6
› |
Kenya Mombasa Safari Vacation 8
› |
Kenya Mombasa Safari Vacation 9
› |
Kenya Nairobi Safari Vacation
› |
Kenya Nairobi Safari Vacation1
› |
Kenya Nairobi Safari Vacation2
› |
Kenya Nairobi Safari Vacation3
› |
Kenya Nairobi Safari Vacation4
› |
Kenya Nairobi Safari Vacation5
› |
Kenya Nairobi Safari Vacation6
› |
---