Nairobi Safari to Carnivore Restaurant
This kenya safari invitation is about a safari from Nairobi city to carnivore restaurant in Nairobi. 
Carnivore Restaurant is Africa's Greatest Eating Experience, a barbeque not only serving normal beef, pork and chicken but also game meat like Giraffe, Zebra, Crocodile, Hartebeest, Ostrich and a wide variety of vegetarian dishes.
---
Itinerary:
---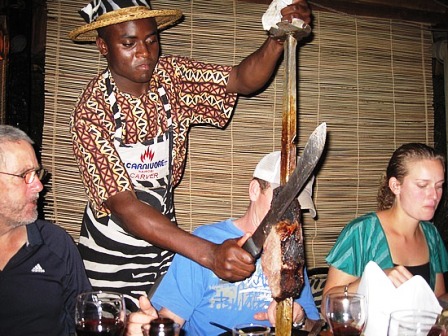 : Visit the Carnivore restaurant for a sumptuous lunch or dinner served at an ideal eating spot for meat lovers including game meat.
:Set in lovely gardens outside the city center, the Carnivore considered 'Africa's Greatest Eating Experience' is an open-air meat specialty restaurant having strikingly different food, service and atmosphere to anything ever seen in Kenya.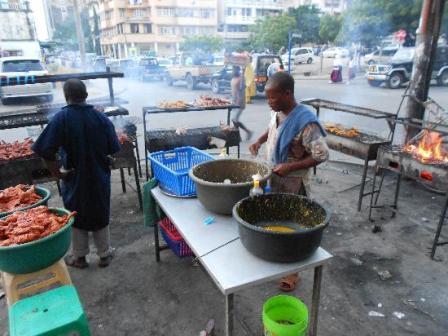 :Every type of meat imaginable, including four choices of wild game, are roasted on traditional Maasai swords over a huge, visually spectacular charcoal pit that dominates the entrance of the restaurant.
The waiters then carry these swords around the restaurant, carving unlimited amounts of the prime meats onto sizzling, cast iron plates in front of you.
A wide selection of salads, vegetable side dishes, and a variety of exotic sauces accompany the meat feast. Dessert and coffee follow this. The full meal including a soup course is at a set price.
: The Carnivore is also the home of the Simba Saloon, Nairobi's most popular nightclub and disco. The informal outdoor atmosphere, exceptional snacks and outstanding entertainment ensure a vibrant and exciting night out.
Other Related Pages

Kenya Safari Vacation 5
|
Kenya Safari Vacation 6
|
Kenya Safari Vacation 7
|
Kenya Safari Vacation 8
|
Kenya Safari Vacation 9
|
---