One Full Day Safari to Tsavo East National Park
This invitation is  about a full day Kenya safari from Mombasa to Tsavo East Naional Park.
This is Kenya's oldest and largest National Park and one of the world's leading biodiversity strongholds, large herds of Elephants glowing red after dust baths with laterite soil, bushy grassland, Lugard Falls on the Galana River and some 500 bird species and other attractions
---
Itinerary:
---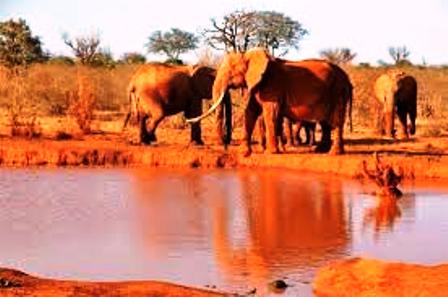 : Depart from your beach hotel in the morning and drive Tsavo East National Park. On arrival enter the park via Bachuma gate and begin your morning game drive enroute to Voi Safari Lodge for lunch.
:After lunch, continue with game drives at Tsavo East National Park which is one of Kenya's oldest and largest National Parks covering an area of 12,000 sq km.
This vast park lies in low semi arid country at the eastern edge of the inland plateau, north of the main Mombasa-Nairobi road and railway. Much of the park is level, open country with scattered rocky ridges and outcrops.
:Due to its size, the park is one of the world's wildlife and biodiversity strongholds.
The Yatta plateau, a long, flat topped lava ridge, runs along the western boundary of the park its about 290 km long and is one of the worlds longest lava flows beneath it flows the Athi river which joins the Tsavo river just above the Lugard falls, to become the Galana river a permanent river that cuts right across the park.
:The seasonal Tiva and Voi rivers are important features of the Northern and Southern sectors respectively.
There are scattered seasonal pools, swamps and dams but relatively few sources of permanent water.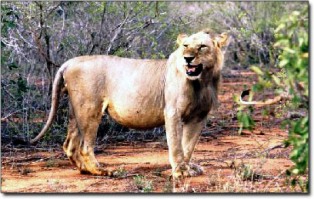 One of the great spectacles of the park is the Mudanda rock a 1 & ½ km long outcrop it is a water catchment area and supplies a natural dam at its base. :
In the dry season, hundreds of elephants come to drink and bathe here. Attractions include large herds of elephants and other wildlife, popular legend of Tsavo "The man-eaters of Tsavo", Aruba Dam built in 1952 across the Voi River attracting many animals and water birds.
In the late afternoon exit the park and return back to Mombasa. Drop off at your beach hotel.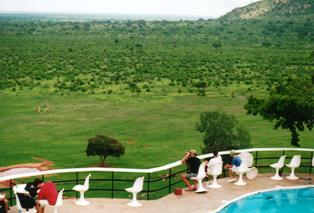 Other Related Pages

Kenya Mombasa Safari Vacations
› |
Kenya Mombasa Safari Vacation 10
› |
Kenya Mombasa Safari Vacation 11
› |
Kenya Mombasa Safari Vacation 13
› |
Kenya Mombasa Safari Vacation 14
› |
Kenya Mombasa Safari Vacation 16
› |
Kenya Mombasa Safari Vacation 17
› |
Kenya Mombasa Safari Vacation 18
› |
Kenya Mombasa Safari Vacation 19
› |
Kenya Mombasa Safari Vacation 2
› |
Kenya Mombasa Safari Vacation 20
› |
Kenya Mombasa Safari Vacation 21
› |
Kenya Mombasa Safari Vacation 3
› |
Kenya Mombasa Safari Vacation 4
› |
Kenya Mombasa Safari Vacation 5
› |
---