Tanzanian Vegetarian Recipes
Do you want to prepare Tanzanian Vegetarian Recipes? Lean all types of Tanzanian vegetarian dishes at this site.
Typesof Vegeterian Recipes in Tanzania
It is very easy to be a vegetarian in Tanzania The variety of eatable leaves and plants, the replacement of regular milk with coconut milk and fat with olive oil makes many dishes to be vegetarian.
The corn, beans and bananas is a traditional dish which doesn't include any animal products. The recipe includes mashed bananas, cobs of corn,coconut milk , a bunch of greens (spinach, collards, cabbage, pumpkin leaves) and green beans.
The dish is also served with grilled meat in non vegetarian cases. The curried spinach and peanut butter (mchicha) is made with spinach or collards, tomatoes, onions, curry powder, regular peanut butter,coconut milk and vegetable oil.
This meal is served as a side dish, but also with rice or ugali. Cabbage is one of the most consumed aliments in the Tanzanian vegetarian cuisine.
It can be combined with beef stock, but the vegetarians eat the coconut cabbage, which includes spices like crushed red pepper, Bermuda onions and vegetable oil.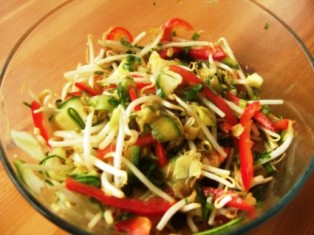 ---
Other Related Recipes and Cuisines

Tanzania Tacos Appetizers Recipe
› |
Tanzanian Couscous Salad
› |       
Tanzanian Vegetarian Salad Recipe
› |
Tanzanian Pineapple Nut Salad
› |
Tanzanian Bacon Snacks
› |
Tanzanian Pitta Snacks
› |
Tanzania Savory Rye Snacks Recipe
› |
Tanzania Veggie Soup
› |
Tomato Avocado Buttermilk Soup Recipe
› |
Tanzanian Bean Soups
› |
Oxtail Soup Recipe
› |
Cream Soup Mix
› |
Tanzanian Green Pawpaw Soup Recipe
› |
Nyama Tanzanian Soup Recipes
› |
Vegetarian Fajitas Dish
› |
Vegetarian Meatballs
› |
Vegetarian Rollups Dish
› |
Curried Potatoes Recipe
› |
Beans With Coconut Recipe
› |
Vegetarians Chili Recipe
› |
Curried Spinach and Peanut Butter Recipe
› |
Vegetarian Cake
› |
---