How to Make Tanzanian Curried Chicken-Banana Soup
Do you want to learn how to make Tanzanian Curried Chicken-Banana Soup? here is a site you need for all the details about chicken soup in Tanzania
Ingredients to make Curried Chicken-Banana Soup
•4 tablespoons peanut oil
•1 (3 lb) Chicken, cut into pieces
•1 Onion, chopped
•2 cloves garlic, chopped
•2 tablespoons curry powder
•1 tablespoon dried red chili peppers
•2 teaspoons black pepper
•8 cups chicken stock
•1 large tomato, peeled and chopped
•1 cup coconut, grated (DON'T USE SWEETENED!)
•2 ripe bananas
Directions to make Curried Chicken-Banana Soup
1.Brown the Chicken pieces in the oil.
2Remove Chicken, reserving, and add the Onion and garlic to the pot.
3.Sauté until soft, then stir in the powdered chile, the curry, and the black pepper and fry for 2 more minutes.
4.Add the tomatoes, stock, Chicken pieces, and coconut, bring to a boil, then reduce heat and simmer for 30 minutes.
5.When the Chicken is done, remove, let cool, then strip away the meat and cut it into bite-sized chunks, discarding the skin and bones.
6.Add it back into the pot with the banana chunks.
7.Simmer 10 minutes.
8.When ready to serve, ladle into bowls.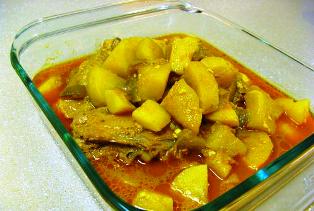 ---
Other Related Recipes and Cuisines

Tanzania Tacos Appetizers Recipe
› |
Tanzanian Couscous Salad
› |       
Tanzanian Vegetarian Salad Recipe
› |
Tanzanian Pineapple Nut Salad
› |
Tanzanian Bacon Snacks
› |
Tanzanian Pitta Snacks
› |
Tanzania Savory Rye Snacks Recipe
› |
Tanzania Veggie Soup
› |
Tomato Avocado Buttermilk Soup Recipe
› |
Tanzanian Bean Soups
› |
Oxtail Soup Recipe
› |
Cream Soup Mix
› |
Tanzanian Green Pawpaw Soup Recipe
› |
Nyama Tanzanian Soup Recipes
› |
Vegetarian Fajitas Dish
› |
Vegetarian Meatballs
› |
Vegetarian Rollups Dish
› |
Curried Potatoes Recipe
› |
Beans With Coconut Recipe
› |
Vegetarians Chili Recipe
› |
Curried Spinach and Peanut Butter Recipe
› |
Vegetarian Cake
› |
---