How to Make Tanzania Tacos Salads Recipe
You too can make yourself a Tanzania tacos salads recipe and if you can't, we will teach you if you promise to follow us step y step on this site.
Ingredients to make Tacos Salads Recipe
•3/4 cup thousand island dressing
•1 lb ground Beef
•2/3 cup water
•1 tablespoon chili powder
•1/2 teaspoon salt
•1/4 teaspoon garlic powder
•1/4 teaspoon ground red pepper
•1 (15 ounce) can kidney beans, drained
•1 head lettuce, torn into bite-size pieces
•1 cup shredded Cheddar Cheese
•2/3 cup sliced ripe olives
•2 medium tomatoes, coarsely chopped
•1 medium avocado, thinly sliced
•1/2 cup sour cream
•1 medium Onion, chopped
Directions to make Tacos Salads Recipe
1.Prepare Thousand Island dressing if you are making it from scratch.
2.Cook Beef in a 10-inch skillet over medium heat, stirring occasionally, until brown;
3.Stir in water, chili powder, salt, garlic powder, red pepper, and Beans.
4.Heat to boiling; reduce heat.
5.Simmer uncovered 15 minutes, stirring occasionally. 6.Cool 10 minutes.
7.Mix lettuce, Cheese, olives, tomatoes, and Onion in a large bowl.
8.Toss with Thousand Island dressing.
9.Add Beef mixture and toss.
10.Divide on serving plates.
11.Garnish with avocado and a dollop of sour cream.
12.Serve immediately.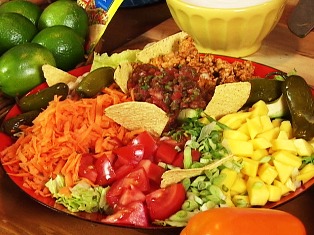 ---
Other Related Recipes and Cuisines

Tanzania Tacos Appetizers Recipe
› |
Tanzanian Couscous Salad
› |       
Tanzanian Vegetarian Salad Recipe
› |
Tanzanian Pineapple Nut Salad
› |
Tanzanian Bacon Snacks
› |
Tanzanian Pitta Snacks
› |
Tanzania Savory Rye Snacks Recipe
› |
Tanzania Veggie Soup
› |
Tomato Avocado Buttermilk Soup Recipe
› |
Tanzanian Bean Soups
› |
Oxtail Soup Recipe
› |
Cream Soup Mix
› |
Tanzanian Green Pawpaw Soup Recipe
› |
Nyama Tanzanian Soup Recipes
› |
Vegetarian Fajitas Dish
› |
Vegetarian Meatballs
› |
Vegetarian Rollups Dish
› |
Curried Potatoes Recipe
› |
Beans With Coconut Recipe
› |
Vegetarians Chili Recipe
› |
Curried Spinach and Peanut Butter Recipe
› |
Vegetarian Cake
› |
---