How to Make Tanzania Green Beans and Potatoes Recipe
All you may need to have a good meal of Tanzania Green Beans and Potatoes Recipe. This emerald green vegetable is simple and delicious on its own, but becomes extraordinary when paired with just a few small additions.
Green beans and potatoes are an easy to prepare comfort food that not only tastes great, but also is good for you. High in vitamin c, vitamin k and fiber, green beans are low in calories and dense in nutrients
Ingredients to Make Green Beans and Potatoes Dish
•green beans
•potatoes, small size
•Red sweet peppers
•Green sweet peppers
•Yellow sweet peppers
•red wine vinegar or lemon
•Extra Virgin olive oil
•cilantro
•Parcely
•salt
Directions
• Boil the potatoes with the skin on, until they are cooked
• Remove the skin from the potatoes. Place the skinned potatoes on a large salad bowl.
• Heat about 1 to 2 table spoons of olive oil in a pan, then add green beans.
• Stir until just a little bit soft.
• Then place them on the same salad bowl with the potatoes.
• Cut all green pappers almost the size of the green beans.
• Then add them in the salad bowl.
• Add cilantro and Parcely.
• Add extra virgin olive oil, lemon, white wine and salt.
• Mix well.
• Serve cold.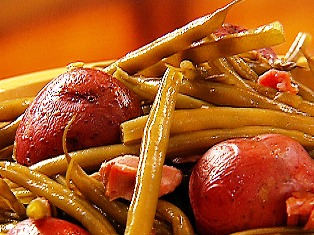 ---
Other Related Recipes and Cuisines
Tanzania Tacos Appetizers Recipe
› |
Tanzanian Couscous Salad
› |       
Tanzanian Vegetarian Salad Recipe
› |
Tanzanian Pineapple Nut Salad
› |
Tanzanian Bacon Snacks
› |
Tanzanian Pitta Snacks
› |
Tanzania Savory Rye Snacks Recipe
› |
Tanzania Veggie Soup
› |
Tomato Avocado Buttermilk Soup Recipe
› |
Tanzanian Bean Soups
› |
Oxtail Soup Recipe
› |
Cream Soup Mix
› |
Tanzanian Green Pawpaw Soup Recipe
› |
Nyama Tanzanian Soup Recipes
› |
Vegetarian Fajitas Dish
› |
Vegetarian Meatballs
› |
Vegetarian Rollups Dish
› |
Curried Potatoes Recipe
› |
Beans With Coconut Recipe
› |
Vegetarians Chili Recipe
› |
Curried Spinach and Peanut Butter Recipe
› |
Vegetarian Cake
› |
---