Uganda Fish Sector Business Opportunities
If you are planning to start a fish sector business in Uganda, this page will. you guide.
Uganda Fish Investment Opportunities are the best in East Africa because Uganda has many water bodies.
The Fisheries sector remains the second highest foreign exchange earner for Uganda. Investment in the sector is estimated at US$ 200 million with employment of over 700,000 people.
In 2008, 24,965 tons of fish were exported which earned Uganda an estimated $124 million in export revenues.
Over the period 2003 – 2006, Uganda doubled its fish export earnings thanks to peak demand for the Nile Perch by the EU and other international markets.
Uganda is blessed with the abundance of unpolluted fresh water resources.
Half of Lake Victoria, the second largest fresh-water lake in the world and an additional 160 smaller lakes and a number of rivers, including the Nile, are located in Uganda.
Lake Victoria is also home to the most abundant stock of wild tilapia (Oreochromis Niloticus) in the world.
With the whole fish weighing an average of 1 to2 kg, fresh tilapia fillets (150-300 g) are making a considerable breakthrough into European markets.
The United States market for Tilapia is growing very fast and Uganda's Tilapia is shipped there frozen.
Uganda's fresh waters also supports an enormous volume of edible fish and a strong domestic and export fish sector which directly and indirectly employs over 800,000 people.
Fishing is a sustainable source of local food for 17 million people and provides 50% of the total animal protein consumption in the country.
Annual local demand of fish is estimated at around 200,000 metric tonnes.
Fish and Fish Farming Sector
Although Uganda is land-locked it borders the fresh, clean, unpolluted waters of Lake Victoria, which is the largest lake in Africa and the second largest fresh-water lake in the world.
The Lake arguably supplies about 1% of world consumption of fresh water fish. In addition to Lake Victoria, Uganda has over 160 small lakes as well as rivers including the Nile.
As a result, Uganda is naturally blessed with an abundance of fresh, clean water that supports an enormous volume of edible fish, both captured and farmed.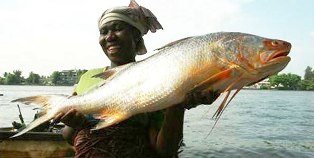 ---
More Pages about Business in Uganda
---
Uganda Iron and Steel Business Potentials
› |
Uganda Dairy Sector
› |
Uganda Education Sector Business Potentials
› |
Uganda ICT Sector Business Potentials
› |
Uganda Mining Sector Business Potentials
› |
Uganda Tourism Sector Business Potentials
› |
Uganda Forestry Sector Business Potentials
› |
Uganda Cotton Sector Business Potentials
› |
Uganda Fish Sector Business Potentials
› |
Uganda Investment in General  Business Potentials
› |