Cotton Sector Investment
Have ever known that Uganda has a long history of cotton sector production dating back nearly 100 years. Cotton was the country's leading cash crop and foreign exchange earner until 1969-70. Today, Uganda is ranked 2nd to Egypt in the world in terms of the quality of its cotton and attracts premium prices on the international market.
Endowed with lots of rains and good climatic conditions, Uganda's cotton is rain fed and grown at an altitude of below 1500m above sea level.
The Eastern, Northern, Lower West Nile and South Western regions' sandy and loamy soils contribute to the country's high productivity. Cotton is grown naturally, even without irrigation, though irrigation is first becoming a necessity in order to increase production and ability to compete favorably.
One of the reasons that Uganda's cotton maintains its high quality is because it is hand picked.
This means that there is less trash content, less contamination and minimum interference with the fiber characteristics.
The cotton is also high strength (32 grams/tex) compared to world averages of 25-28 grams/tex.

GOING FOR ORGANIC COTTON SECTOR FARMING
The liberalization of the cotton sub-sector in 1994 led to a greater focus on the production of organic cotton.
Several regions in the north of the country have been certified for growing and processing organic cotton.
This means that use of chemical fertilizers, pesticides, and herbicides is prohibited. Uganda's international reputation as a source of quality organic cotton is steadily growing.
According to the Organic Exchange's Organic Farm and Fiber Report 2007, Uganda was the 7th leading producer of organic cotton in the world and number one in Africa in 2006.
Production of organic cotton doubled between 2004 and 2006 to 12000 bales.
Uganda currently has over 15,000 organic cotton farmers, the largest number organic cotton farmers in the African region.


COTTON SECTOR STRENGTH
Today, Uganda has about 250,000 cotton farmers, 45 ginneries, 15 oil mills, 3 vertically integrated textiles mills and 25 textiles and apparels Small Medium Enterprises (SMEs).
Small-holder farmers (0.5 to 2.0 ha) predominate at present. Government plans to boost production by introducing large scale commercial farming.
In order to ensure uniformity and easier quality control in the production of lint and yarn, priority has been given to the production of a single variety of long staple, Bukalasa Pedigree Albar (BPA).
Uganda is a member of Liverpool Cotton Association (UK), Bremen Cotton exchange (Germany), Cotlook (UK) and the International Cotton Advisory Committee (USA).
The Government of Uganda is laying the foundations for improved yields through the Strategic Exports Initiative. The Cotton Development Organization (CDO) is the institution that regulates the cotton sector.
CDO has improved quality controls and quality certification through the establishment and enforcement of Ugandan Official Cotton Standards, recognized internationally.


COTTON SECTOR INVESTMENT OPPORTUNITIES
• Value addition to lint which increases by 3-fold if sold as yarn, 5-fold if sold as cloth, 7-fold if sold as fabric, and 10-fold if sold as garment.
• Setting up a medium sized spinning mill, fabric production plant or a fully integrated textile mill.
• Expansion and improvement of current cotton farming systems.
• Marketing and exporting of organic cotton since it is a more is a more specialized product than conventional cotton. Its production requires certification.
• Pesticide formulators and mixers to control diseases and pests.
• There is need for training/designing schools to build the capacity in the clothing and apparel industries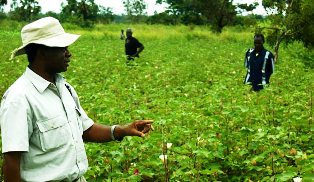 ---
More Pages about Business in Uganda
Uganda Iron and Steel Business Potentials
› |
Uganda Dairy Sector
› |
Uganda Education Sector Business Potentials
› |
Uganda ICT Sector Business Potentials
› |
Uganda Mining Sector Business Potentials
› |
Uganda Tourism Sector Business Potentials
› |
Uganda Forestry Sector Business Potentials
› |
Uganda Cotton Sector Business Potentials
› |
Uganda Fish Sector Business Potentials
› |
Uganda Investment in General  Business Potentials
› |
---