Uganda Dairy Sector Business Investment Opportunities
Being an African cattle corridor, Uganda has the highest chances of Dairy Sector Business and investment opportunities in Africa. The dairy business sector is one of the critical sectors in COMESA and East African Community (EAC), with high potential for improving food security and welfare.
Recent analysis provides clear evidence of increasing demand for dairy products (and other foods of animal origin) in Sub Saharan Africa (SSA) and other developing regions of the world as a result of rapid population growth, urbanization and increasing purchasing power.
Uganda produces a variety of milk products. A substantial amount of milk and milk products is also imported indicating that the domestic production is not sufficient to meet market demands.
Uganda also exports dairy products mainly to the regional market. The annual growth rate of milk production between 2001 and 2006 has been 9 percent leading to total national milk output growing from 900 million litres in 2001 to 1,400 million in 2006.
Dairy Sector farming is concentrated in cattle corridor districts of Uganda which stretch from the south western region through central to north eastern. On average, 60 percent of the households in the cattle corridor.
Factors Favouring Diary Sector Investment In Uganda
Good natural resource base: A natural resource base for dairy farming, a favourable climate and good soils in most parts of Uganda ensure good production of pastures for dairy herds throughput the year.
There is less pressure on Uganda land and this implies that more land can be available for dairy farming at a relatively lower cost of establishment.
The weather with two rainy seasons a year is favourable to Dairy Sector. This gives Uganda the competitive advantage over its neighbours who frequently experience prolonged dry seasons.
Abundant and affordable labour: Uganda has abundant skilled and unskilled labour for cheap production with labour rates per hour being US $ 0.6 compared to $1.1 for Kenya, $0.7 for Zambia and $2.8 for Zimbabwe (According to World Bank Investment Climate Survey 2004).
Further Uganda has the most flexible labour laws in Africa and ranks 8th in the world (Doing Business Report 2007 by World Bank).
Cheap cost of industrial land: The cost of industrial land to set up food processing facilities in Uganda is the cheapest in the region, at $5.9/sq.m while Kenya's is $186; Tanzania's $12.6; and Republic of South Africa (RSA) $58 - (Snap Shot Africa, by World Bank 2006).
Strategic location: Uganda's location in the in the heart of sub-Saharan Africa gives it a commanding position as a base for regional trade and investment, easily accessing the markets of Southern Sudan, Rwanda, Eastern Democratic Republic of Congo, Northern Tanzania and Western Kenya.
Good infrastructure: Improved infrastructure. About half of the major national road network is bitumen surfaced (tarmac) which facilitates transportation of goods/dairy products across major parts of the country, especially the milk producing areas. Most of the feeder roads are easily motorable throughout the year.
Large stocks of indigenous dual-purpose animals: The indigenous animals in Uganda are tolerant to most diseases and tropical climate.
Women participation in Dairy Sector: Women have been very active participants in the dairy industry since the introduction of heifer projects and the zero-grazing philosophy. Their participation has greatly contributed to increased household income, food security and nutrition as well as the stability of the dairy industry.
Willingness of stakeholders to change: Willingness of dairy industry stakeholders to form large groups that can address their needs is a great advantage to the industry.
Since 1999, almost all operators engaged in the informal milk trade were organized into an Association the Uganda National Dairy Traders Association (UNDATA). Membership included those involved in transportation, milk boiling and cooler operators.
The operators agreed to convert from boiling milk to use of appropriate technology - bulk pasteurization. The Association elected a representative to the dairy Board. In 2002, dairy farmers also formed their own association: the Uganda Dairy Farmers' Association (UDFA).
Increasing population (urban and rural): Uganda has one of the fastest growing populations in Africa/world (at 3.6 percent per annum). This will lead to increased milk consumption, internal milk marketing and hence stimulate more production.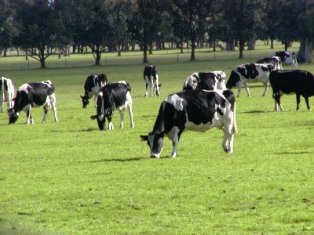 ---
More Pages about Business in Uganda

Uganda Iron and Steel Business Potentials
› |
Uganda Dairy Sector
› |
Uganda Education Sector Business Potentials
› |
Uganda ICT Sector Business Potentials
› |
Uganda Mining Sector Business Potentials
› |
Uganda Tourism Sector Business Potentials
› |
Uganda Forestry Sector Business Potentials
› |
Uganda Cotton Sector Business Potentials
› |
Uganda Fish Sector Business Potentials
› |
Uganda Investment in General  Business Potentials
› |
---