Kenya National Dress Code - Dressing in Kenya
All you may need to know about Kenya national dress code -from the national flag, Kenya is yet to have a national dress that cuts across its diverse ethnic divide.With each of the more than 42 ethnic communities in Kenya having its own traditional practices and symbols that make it unique, this is a task that has proved elusive in the past.
However, several attempts have been made to design an outfit that can be worn to identify Kenyans, much like the Kente' cloth of Ghana.
The most recent effort was the Unilever-sponsored "Sunlight quest for Kenya's National Dress".
A design was chosen and though it was unveiled with much pomp at a ceremony in which public figures modelled the dress, the dress design never took hold with the ordinary people Kitenge, a cotton fabric made into various colours and design through tie-and-dye and heavy embroidery, is generally accepted as the African dress.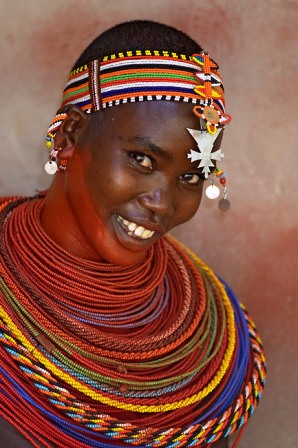 Though used in many African countries, Kitenge is yet to be accepted as an official dress as it is only worn during ceremonies and non-official functions.
The Maasai wear dark red garments to symbolise their love for the earth and also their dependence on it.
It also stands for courage and blood that is given to them by nature. The Kanga (Khanga, Lesso) is another cloth that is in common use in practically every Kenyan home.
The Kanga is a piece of clothing about 1.5 m by 1 m, screen printed with beautiful sayings in Swahili (or English) and is largely worn by women around the waist and torso.
Other Pages of Interest
Kenya Art
|
Kenya Festivals
|
Kenya Gender Issues
|
Kenya Gestures
|
Kenya Greetings
|
Kenya History
|
Kenya Language
|
Kenya Literature
|
Kenya Modern Culture
|
Kenya Music
|
Kenya National Anthem
|
National Dress Cord of Kenya
|
Kenya People
|
Kenya Respect
|
Kenya Taboos
|
Kenya Television and Culture
|
---