Swahili people of Kenya
Do you want to learn about the culture of the Swahili people of Kenya? Then welcome to this site where you will get comprehensive information about the Swahili culture and all you need to know about Swahili tribes' in Kenya.
For at least a thousand years, Swahili people, who call themselves Waswahili, have occupied a narrow strip of coastal land extending from the north coast of Kenya to Dar es Salaam (the capital of Tanzania).
They also occupy several nearby Indian Ocean islands, including Zanzibar, Lamu, and Pate.
Over the past few hundred years, the coastal area has been conquered and colonized several times—by Portuguese in the sixteenth century, by Middle Eastern Arabs who ran a slave trade in the nineteenth century, and by the British in the twentieth century.
Thus, Swahili people are accustomed to living with strangers in their midst, and they have frequently acted as middlemen in trade relations. In addition, they have incorporated many people and practices into their vibrant social world.
Swahili are all Muslims. They became Muslim through the influence of people coming from the north and also from across the Indian Ocean. They have forged extensive economic, political, and social ties with Middle Eastern Muslims.
During the colonial period and since independence in the early 1960s, Swahili people have been a minority Muslim population in the secular states of Kenya and Tanzania.
The Swahili peoples of Kenya share a great deal, including their language and culture. Over the centuries, the Swahili mixed with Arabs through immigration and conquest.
The Bajun, who are concentrated around Lamu and Kenya's northern coastal area, speak a distinct dialect of Swahili known as Kitikuu.
It is believed that they came from a place in the north called Shungwaya, which has yet to be found.
The Shirazi apparently came from the north as well. Traditionally, they claim that they came from the aristocratic families and dynasties that composed the Ozi kingdoms of Shaka, Mwana, Ungwana, Malindi, and Mombasa.
Most historians place no real weight on this story, however, and the Shirazi have mixed with the Swahili until little remains to distinguish them.
The Swahili, as well as the Bajun and Shirazi, rely mainly on fishing and agriculture.
Fish spears and handlines (mishipi) are used with great skill, as are basket traps, cast nets (kidifu), drift nets (majerifa), and long seine nets (majuya).
Agriculture is also important, with fires used to clear the land before planting. 
This method is described in 2nd century writings, demonstrating the amount of tradition behind the Swahili people.
The coconut plays a primary role in the local economy, being used for building, making baskets and ropes, food, drink and oil. Root crops are also important to the area, as are rice, maize and fruits.
Although not as prevalent as they used to be when they numbered in the hundreds, ocean-going dhows (madau) still exist in Lamu, Mombasa and Malindi.
Dug-out canoes (mtumbwi) and outrigger canoes (ngalawa) can be seen, and around Lamu cargo is still transported in the jahazi, with its triangular sail, and the dau la mwao, a keelless raft used for pretty much anything.
Wood working and weaving a variety of fibers into baskets, mats, etc., are important crafts to the area.
The beautiful carved doors in Lamu are a good example of the carving skill of the Swahili people.
Their leather work is also of high quality, and their skill with metal can be seen in their beautiful brass trays and inlay work.
---
LOCATION OF SWAHILI PEOPLE IN EAST AFRICA
---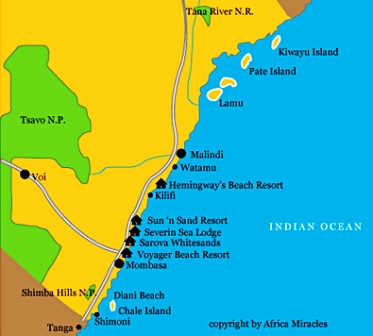 LOCATION OF SWAHILI PEOPLE IN EAST AFRICA
The deep harbors along the east African coast have long sustained a profitable fishing and shipping economy.
The lush coastal plain provides a fertile environment for growing coconut palms, fruit trees, spices, and mangrove in swamp areas.
Today, Swahili people live primarily in the urban areas of Lamu, Malindi, Mombasa, Tanga (mainland Tanzania), the island of Zanzibar, and Dar es Salaam.
Hundreds of Swahili people left for the Middle East after the Zanzibar Revolution in 1964.
Over the past several decades, thousands have migrated to the Middle East, Europe, and North America largely for economic reasons. The Swahili population is about half a million.
---
LANGUAGE OF SWAHILI PEOPLE
---
KiSwahili, the Swahili language, is widely spoken across East Africa. For most Kenyans and Tanzanians, KiSwahili is learned as a second language. Swahili people speak KiSwahili as their "mother tongue," and it reflects their mixed origins and complex history.
The language includes many words borrowed from Arabic (and other languages), yet its grammar and syntax place it in the Bantu language family, which has roots on the African continent.
Like many Kenyans, Swahili people also use English in their daily interactions, particularly in schools, government offices, and the tourist industry.
---
FOLKLORE OF SWAHILI PEOPLE
Myths and heroes are generally from Islamic sources. For example, many people tell short, moralistic tales based on the Prophet Muhammad's life.
RELIGION OF SWAHILI PEOPLE
Being Swahili is inextricably connected to being Muslim.
Swahili Muslims recognize the five pillars of faith that are basic to Islamic practice worldwide: 1) belief in Allah as the Supreme Being and in Muhammad as the most important prophet; 2) praying five times a day; 3) fasting from dawn to dusk during the month of Ramadan; 4) giving charity; and 5) making a pilgrimage (hajj) to the holy city of Mecca, if feasible. For Swahili people, Islam encompasses more than just spiritual beliefs and practices; Islam is a way of life.
---
MAJOR HOLIDAYS OF SWAHILI PEOPLE
Swahili people celebrate the nation's secular (nonreligious) public holidays. These include, in Kenya, Jamhuri Day and Madaraka Day, which mark the steps toward Kenya's Independence in the early 1960s.
In Tanzania, secular holidays are Labor Day (May 1), Zanzibar Revolution Day (January 12); Nane Nane (formerly Saba Saba— Farmer's Day, in August); Independence Day (December 9); and Union Day (April 26), which commemorates the unification of Zanzibar and the mainland.
For Muslims, the most important holidays are religious. Eid al-Fitr marks the end of the month of Ramadan.
Eid al-Hajj celebrates the yearly pilgrimage to Mecca. Each Eid is celebrated by praying, visiting relatives and neighbors, and eating special foods and sweets. During the month of Ramadan, Swahili (along with all other) Muslims fast from sunrise to sunset. Maulidi, or the Prophet Muhammad's birthday, is widely celebrated by Muslims.
---
RITES OF PASSAGE OF SWAHILI PEOPLE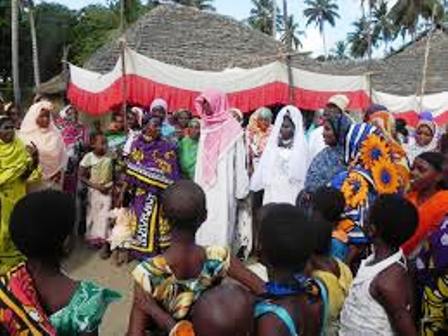 Marriage marks the transition to adulthood.
There are no specific rites of passage for children or teens. Birthday parties, increasingly popular, include eating cake, disco dancing, and opening presents. Graduation ceremonies mark a young person's educational progress.
Marriage marks the transition to adulthood.
Marriages are usually arranged by parents. A young woman cannot get married without her father's permission, but she has the right to refuse someone chosen for her.
Weddings can include several days of separate celebrations for men and women. Only men attend the actual marriage vows, which take place in a mosque. A male relative represents the bride.
---
RELATIONSHIPS OF SWAHILI PEOPLE
RELATIONSHIPS OF SWAHILI PEOPLE
Swahili people are as likely to greet one another with the Arabic greeting Asalaam Aleikhum as they are to say Jambo, the common KiSwahili greeting. 
People who know each other exchange a string of greetings inquiring about the health of family members and the latest news. Children greet an elder with respect by kissing his or her hand.
Swahili people greatly value modest behavior. Men and women are not permitted to mix freely. Dating is generally non-existent. Most people pursue their daily activities with others of the same gender.
Women are encouraged to congregate at home, while men spend time in public places.
---
LIVING CONDITIONS OF SWAHILI PEOPLE
Houses vary depending on a family's means and the type of town in which they reside. "Stone towns," like Lamu and Mombasa, are characterized by large stone houses, some divided into apartments.
Some Swahili people living in "country towns" still occupy houses made of hardened mud and stones, although these are less common than houses of stone or coral.
Most homes have electricity, indoor plumbing, several bedrooms, and a living room furnished with a couch and chairs.
Access to water is critical for Muslims who must wash before prayers. In comparison with many people in Kenya, Swahili people enjoy a relatively high standard of living.
---
FAMILY LIFE OF SWAHILI PEOPLE
Under Islam, husbands and fathers have authority in the home. They can make decisions for wives and daughters and compel them to behave properly to preserve the family's honor. But Swahili women also wield considerable power in the daily life of the family.
The average number of children in each family has declined from as many as fourteen children early in the twentieth century to three or four children by the late 1990s.
Women who have been educated and/or work outside the home tend to limit births. Residents of an individual household might include many people beyond the immediate family, such as grandparents, nieces and nephews, and in-laws.
---
CLOTHING OF SWAHILI PEOPLE
In the early twentieth century, women generally wore brightly colored cotton cloths ( kanga or leso ).
These were wrapped around their waists and upper bodies and draped over their shoulders and heads.
Men wore a striped cloth ( kikoi ) around the waist that hung to the knees. As a mark of being Muslim some men sported small white caps with elaborate tan embroidery.
Dressing well but modestly is highly valued. Women wear Western-style dresses in many colors, patterns, and fabrics.
Outside the house, women wear a black, floor-length cloak with an attached veil, called a buibui. Men wear Western-style trousers and shirts. On Fridays (the Muslim day of rest), or other religious occasions, they wear long, white caftans. Shorts are worn only by children.
Other Pages of Interest
Kenya Cultural Origins
|
Kenya Student Rules
|
Kikuyu People
|
Luo in Kenya
|
Masai  People
|
Samburu People
|
Student Class Rules
|
Turkana People in Kenya
|
---