Kenya Literature 
Oral folklore and legend in pre-colonial Kenya was of paramount importance as the only form of storytelling or history (with the exception of the coast). Most tribal groups had their own particular folklore and mythologies.
Many of these are creation stories and accounts of early ancestors. Fables and folk stories were also common, often comical or dramatic tales about animals with a moral in the tale.
A set cast if characters was commonly used with definite attributes for each animal. The Elephant was infinitely wise, the Lion powerful yet vainglorious, the Hyena both malevolent and moronic, and so forth.
On the coast, writing was introduced with the Arab influence, resulting in a detailed historical record, but also in early literature.
The Swahili culture has a strong tradition of poetry, with long and beautifully complex poems worked within a rigid metre that dictated the amount of syllables in each line.
Despite these restraints of form, the subjects are beautifully expressed and lyrical. Love poetry, often highly erotic, is frequent, as is political and social commentary. Poems are often framed as challenges and distinct arguments, still using highly creative language.
Proverbs are also very popular in the Swahili language, and are frequently used to make a point. They are traditionally printed on the edge of a Khanga, the wrap around cloth worn by women all along the coast.
Proverbs have carried inland and are still widely used to give advice or sum up a situation. In modern Kenya, two commonly heard proverbs are:
Haraka Haraka haina Baraka - There is no blessing in haste
Kipenda Roho ula Nyama Mbichi - If you have desire in your heart you will even eat raw meat
The colonial experience in Kenya prompted a great deal of literary output, from the accounts of the early explorers onwards. JH Patterson's sensational tale of his battle with The Maneaters of Tsavo became a major bestseller and prompted a new genre of safari and hunting literature.
Among the annals of Kenyan big game hunting, one of the best known is Ernest Hemingway's The Green Hills of Africa, an account of his days hunting throughout Tsavo and the Chyulu region.
One of the best loved accounts of Kenyan colonial life was written by acclaimed Danish author Karen Blixen. Out of Africa, written under her pseudonym Isak Dinesen, is a lyrical tale of her life on a coffee plantation outside Nairobi. Full of rich descriptions of the country and its wildlife, the book also says a great deal about the emotional isolation and uncertainty of her life in Kenya.
Another early settler was Elspeth Huxley, who came to Kenya as a child. Her book The Flame Trees of Thika was the first in her series of works about the colonization of Kenya. Her first novel Red Strangers is an interesting account of the initial relationship between British settlers and the Kikuyu in the Nairobi area.
Kenya's reputation as a haven for eccentrics and bohemians attracted many independent spirits to Kenya, and produced an interesting body of literature. Beryl Markham's West with the Night is an adventurous and evocative account of her flying, hunting and traveling through Kenya in the first half of the 20th Century.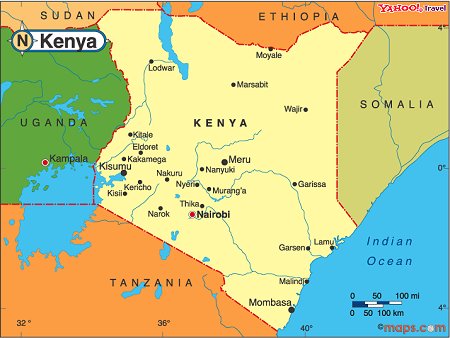 Evelyn Waugh wrote an amusing account of the colony in A Tourist in Africa, while James Fox undertook a detailed investigation of its most famous mystery- the murder of Lord Errol- in White Mischief.
Joy Adamson's Born Free was one of the first real calls for conservation of Kenya's great bounty of wildlife, and sparked a great deal of international attention. Similar sentiments were expressed in Peter Mathiessen's The Tree where Man was Born, a beautifully written account of his exploration of East African wilderness.
On the social front, Shiva Naipaul painted an incisive portrait of Kenya during early independence in his book North of South. Kenya has produced an astonishing range of literature, and has become a common canvas for romantic and adventurous writers. This continues to this day, with more books published about Kenya each year.
The American photographer Peter Beard has spent a great deal of time in Kenya, and produced several books about the country.
The Samburu people
The best of these is undoubtedly The End of the Game a beautiful and important book about wildlife conservation, which manages to be both a brilliant work of modern art and a serious ecological commentary.
Italian born Kuki Gallmann has lived a long and remarkable life in Kenya, and her autobiography I Dreamed of Africa was a major bestseller. The book is a lyrical account of her life on a ranch in Laikipia, filled with vivid descriptions of natural beauty, the pain of emotional loss and the joy of freedom.
Another recent account of life in Kenya was Francesca Marciano's The Rules of the Wild a romantic novel set in the expatriate circles of modern day Nairobi.
The first published writing by Kenyan authors was born out of the experience of colonialism and the struggle for independence.
One of Kenya's best known authors is Ngugi wa Thiongo an idealistic and skilled author whose work, published in both English and Kikuyu, is rich in themes of social, political and personal liberation. His titles include Petals of Blood, Devil on the Cross, and I Will Marry When I Want.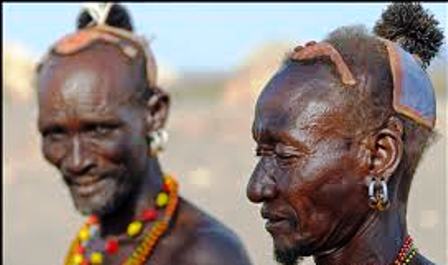 The Turkana
Probably his most accessible work for Western audiences is Weep Not Child a moving account of young Kikuyu men whose lives are changed by the struggle for independence. This novel provides an interesting alternative perspective to the mass of Kenyan colonial literature.
Popular modern Kenyan fiction consists of short stories and novels, with recurring themes of escape from poverty, triumph over adversity and ultimate redemption. Mweja Mwangi's book Going Down River Road is a much loved tale of life in urban Nairobi, written in a pacy, sometimes racy style.
Binyavanga Wainaina's award winning Discovering Home combines travelogue and personal reflections on identity and the true meaning of home, gathered on the author's journey through Southern and Eastern Africa.
Kenyan author Parselelo Kantai won the 1st Runners up Caine Prize Award 2004 for his excellent short story The Story of Comrade Lemma and the Black Jerusalem Boys Band.
Writing in Kenya is on the rise, and various schemes including a nationwide literary competition are working to support and encourage the young Kenyan authors of the future.
Other Pages of Interest

Kenya Cultural Origins
|
Kenya Student Rules
|
Kikuyu People
|
Luo in Kenya
|
Masai  People
|
Samburu People
|
Student Class Rules
|
Turkana People in Kenya
|
---