Arusha Central Inn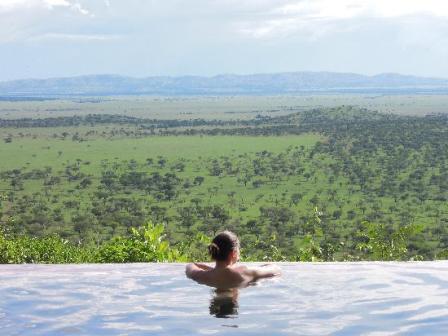 You wouldn't want to spend your honeymoon at Arusha Centre Inn but it's not too bad an option if you find yourself in Arusha for a night or two and want something that is a step up from the more rough and ready end of the market.
My colleague and I stayed there for one night after our camping safari. I think we paid in the region of $25 to $30 for a double room with private bathroom.
By African standards the rooms weren't too bad for the money and have a TV with a handfull of channels. The bathrooms have a toilet, sink and hot water shower. The hotel has its own generator which is handy for the regular power cuts that seem to occur. 
Downstairs there's a good restaurant which is useful if you don't want to be on the street after dark. The room price also includes a great breakfast with fruit, fruit juice, toast, eggs and tea or coffee. 
A reason to stay at Arusha Centre Hotel in itself
Other Places of Good Accommodation
Onsea House Country Inn and Guest Cottages |
Zawadi House   |
Ahadi Lodge |
Bay Leaf Boutique Hotel |
Korona House |
Guava Garden Lodge |
Outpost Lodge   |
Shangazi House |
Mc-Ellys Hotel |
Caanan Hotel Arusha |
Elerai Boutique Hotel |
St. Catherine Monastery |
Rich Hotel |
Adia's Place |
Hilton Motel |
Aquiline Hotel |
Arusha Tourist Inn   |
Kitundu Guesthouse   |
Arusha Centre Inn |
Olduvai Inn   |
Lush Garden Hotel |
Briston Hotel |
---