Uganda Steamed Fish Recipe
If you have never tasted a Uganda Steamed Fish Recipe , then you are missing a lot. On this page we will teach you how to make Steamed Fish Dish for your guest or family.
In Uganda the cooking method most often used is wrapping the fish in banana leaves and dropping it into boiling water.
salt is the basic seasoning - anything else by way of flavoring depends on what's at hand.
Lacking a handy supply of banana leaves, we can best ensure retention of moisture and flavor by simple steaming.
Ingredients to make Steamed Fish Recipe
•1 whole, fresh fish (1½ to 2 pounds), cleaned
•salt to taste
•1/2 cup each chopped onions and chopped tomato (optional)
Directions to make Steamed Fish Recipe
Season fish with salt. Sprinkle with chopped onions and tomato if desired. Place fish in a steamer or on a rack in a stewing pan.
Cover bottom of pan or steamer with boiling water (keep water below fish), and simmer until fish is cooked.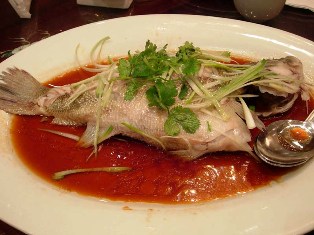 ---
Other Uganda Recipes and Cuisines

---