Travelling in Kenya By Matatu
Travelling in Kenya by Matatu is the most enjoyed means of transport in Kenya. Allow us to show you all the information you may need to know about Matatu transport in Kenya.
Matatus are privately operated minibuses, typically for 14 or 25 passengers and operating over short and mediumdistances.
Travel by matatu can be somewhat risky as the vehicles are sometimes extremely badly driven, with matatu drivers swerving in and out of traffic and stopping at a moment's notice by the side of the road for passengers.
Some are poorly maintained, and many are to be found in fascinating and colorful decor, which is a major feature of Kenyan urban culture.
Previously matatus were usually packed to well over capacity – up to 25 people in a 14-seater vehicle – but in recent years there has been increased government regulation and policing of matatus, especially in the larger cities, and now most matatus provide seat belts and do not exceed the vehicle's stated capacity.
An unfortunate side-effect of better regulation has been a loss of individuality and character of some of the vehicles, and drivers and conductors are now obliged to wear set uniforms.
Tourists should be careful to ensure that they are wearing the seat belts provided, unless they wish to find themselves taken on an inconvenient unscheduled trip from a road checkpoint to the police station.
Although most matatus ply their trade along set routes, it is often possible outside of major towns to charter a matatu on the spot as a taxi to your desired destination.
Make sure you have categorically confirmed your negotiated price and exact destination before the vehicle goes anywhere, or you may find yourself in the shadier areas of Nairobi at night at the mercy of an indignant matatu driver.
Matatus provide a very cheap and quick method of transport in all the major towns and many rural areas. The name matatu hails from the Kiswahili word for the number three – tatu – because some time ago the standard fare was three ten-cent coins.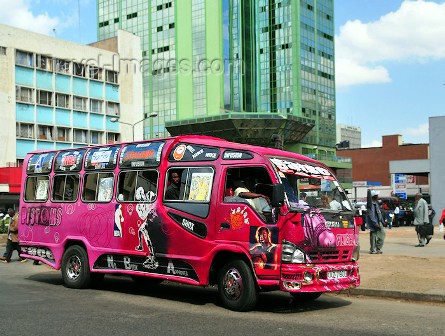 Other Related Pages
Entertainment and Nightlife
Shopping Guide
Hotels and Lodges
Restaurants and Dining
---