The Engagi Lodge in Uganda

The Engagi Lodge is a modern lodge in a breathtaking setting offering stunning views over the forest canopy. The lodge is situated near the Bwindi Impenetrable Forest National Park, and runs from the main Buhoma road down to the Munyaga River
More about Engagi Lodge in Bwindi Forest Uganda
The Main Lodge building is divided into 3 sections: a "rock" bar, the restaurant, and a large wooden verandah with a separate outdoor viewing platform.
The lodge building is large enough to cater for sizeable groups needing banqueting tables, but still allows smaller individual groups to spread out in the various different areas for privacy.
The lodge is open ended at the front, allowing a dramatic view of the Bwindi National Park forest from every corner inside the building.
The main lodge is built entirely from rocks found in and around the site and eucalyptus trees, while the roof has been thatched using banana fiber sourced from local farmers.
The kitchen (which has been built a distance away from the lodge to ensure privacy for the clients) prepares a variety of 3 course meals, and all requirements (such as vegetarians and vegans) are catered for by our team of experienced Kampala trained chefs.

Other Hotels and Holiday Resorts
Gorilla Safari Lodge |
Silverback Lodge |
Savannah Resort Hotel |
Bwindi Lodge |
Birdnest @ Bunyonyi Resort |
Traveler's Rest Hotel |
Mahogany Springs |
Nkuringo Gorilla Camp |
Sanctuary Gorilla Forest Camp |
Clouds Mountain Gorilla Lodge |
Buhoma Lodge |
Gorilla Resort Camp |
Nshongi Camp |
Trekkers Tavern |
Ruhija Gorilla Safari Lodge |
Lake Kitandara Tented Camp |
The Buhoma Community Rest Camp |
---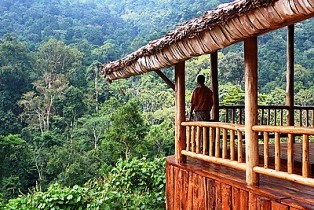 The The Engagi Lodge consists of just 8 en-suite cottages, evenly spaced out and hidden in the foliage.
Each cottage has either double or twin beds (complete with hot water bottles), a bathroom with flushing toilets, hot and cold running water.
All have private verandas where guests can enjoy their morning tea or coffee as they watch out over the forest canopy.
Electricity is supplied by solar power, with a backup generator. Hot water is supplied by wood burning boilers, however they intend to install solar powered heaters in the future with the wood burners as backup.

The main Reception has been built up on the Buhoma Road, and they have a large and secure roadside car-park, both of these are a good distance away from the main lodge buildings.
Drivers can be accommodated in our permanent staff buildings.
Guests will be able to enjoy a number of private walking trails around the lodge and down to the river.
They may also enjoy a visit to a number of functioning tea farms inside the site which are maintained by members of the community.