Zanzibar Sultan Palace

Sultan Palace Hotel in Zanzibar appears to have been one of the first 'boutique' category hotels on the island, having been opened in the late 1990s by its Italian owner, Paola.
With only 15 rooms (primarily detached lodges/cottages throughout the grounds), it is an incredibly intimate and private place to stay.
After a period away from running the hotel, Paola took up the reigns again a few years ago, and you can see her personal touch everywhere.
She is involved in all aspects - from meeting guests, supervising the kitchen, and even eats most of her meals along with the guests.
If not for Paola, I suspect the elegance, warmth and charm (and just a hint of under-stated glamour) that make it special,
would soon disappear - for these qualities apply equally to her, as to the "bricks and mortar."
---
Other Holiday Hotels, Beach Rentals and Holiday Villas
Sunrise Guest House Hotel › |
Nyota Beach Bungalows › |
Coco De Mer Hotel › |
Zanzibar Safari Club › |
Kasha Boutique Luxury Hotel › |
Villa Dida › |
Echo Beach Hotel › |
Dongwe Ocean View › |
Sun and Seaview Bungalows › |
Kono Kono Beach Villas › |
Zanzibar Coffee House › |
Mangrove Lodge › |
Spice Island Hotel Resort › |
Karafuu Beach Resort and Spa › |
Warere Town House › |
---

The rooms fall broadly into two categories - those with a direct sea view, and 'garden' suites.
Many of the latter do have sea glimpses, all are vast, and tastefully decorated with local furniture and antiques. Most also have private, covered terraces or decks.
The bathroom was large, but not state of the art - however, it was immaculately maintained (as was the rest of the hotel).

The food completely exceeded expectation - breakfast, on a balcony of the main building over looking the sea(which contains sofas, reception, a bar and the dining room) with fresh fruit, home-made pastries and a hot breakfast cooked to order, was an excellent start to the day.
Lunch, served on the beach, by default was a 3 course affair with lots of seafood/fish and a strong Italian influence.
All of it delicious, but more flexibility might be welcome - I 'negotiated' it down to one course, as my appetite tends to wane in the heat.
I sense most guests stay 'full board' - but some (more obvious) flexibility would be welcome here.
Tea was available by the pool every afternoon, always with some tasty home-made biscuits and treats. Dinner, often in Paola's engaging company (possibly not an option at busier times!), delighted every night.
Again, a definite Italian influence (the local chefs received their training from an Italian chef, and Paola's supervision in the kitchen is obvious).
The trump card is the bountiful and freshly caught fish and seafood - the largest and most flavoursome crabs I have ever come across, a local variation on lobster, and countless types of fish, all simply, but expertly prepared.
It is important to note that there is no menu as such - you are asked to choose your meal earlier in the day, and if there is anything you hanker after, there is a genuine desire to accommodate you.
There is a wine list that goes from reasonable (circa $25 USD per bottle) to expensive, a selection of local beers ($5 USD) and a heartfelt attempt at a cocktail menu, which I did not try.

In terms of location, the drive from Stonetown/the airport is about an hour.
Though Sultan Palace was one of the first properties on this stretch of the eastern coast, it now has plenty of neighbours - at no point are you aware of them unless you walk up or down the beach.
Whilst possible to venture out to other hotels for food/drink, it might take some concerted effort and planning.
As is widely publicised, this area of the island is tidal - meaning access to the water is not always straightforward, due to the coral reef some 200 feet from the shoreline.
Rubber shoes are advisable for swimming - but the hotel has some to loan out. Although technically a public beach, you will rarely see a soul - other than the hotel's staff and security.
The gardens and setting are attractive and private, and tended by an army of gardeners. The new-ish infinity pool complete the picture, and gets sun from dawn through till after 6pm.

Paolo works tirelessly to ensure that your stay is precisely as you want it to be - be it a private dinner on the beach, breakfast in your room, a trip out in one of the hotel's boats (out of action during my stay) or any other whim you might have.
In the old days, with less competition, my impression is that the guests were almost exclusively (wealthy) Italians - and there would have been more than a hint of 'aspirational 5 star resort' with eye-watering charges for even basic amenities.
The island has changed, and there is now a lot more choice - which has forced Sultan Palace to re-orientate (thankfully not re-invent) - a process that is not quite complete.
Sultan Palace in Zanzibar is one of the very few five star hotels on the East African coast. Built in Arabic Zanzibari style it is a smart and peaceful retreat offering an excellent contrast to the hustle and bustle of Stone Town.
Sultan Zanzibar Palace is a splendid resort situated on the southeast coast of Zanzibar Island with beautiful sandy beaches, some 60 km from the airport or Zanzibar Stone Town.
The huge main building with its splendid terraces, include a bright lounge and the restaurant with its verandahs. On the beach there is a bar and restaurant. The 15 flower named cottages are 180 square meters each, with a wonderful views of the Indian Ocean, a verandah and a private garden.
The cottages are furnished with local antique furniture including the carved omanite doors and Zanzibar double beds. All the cottages have en-suite bathrooms, air-conditioners, a ceiling fan, a telephone, a fridge and a hair dryer.
The Sultan Zanzibar Palace blends romance, privacy and relaxation in the elegant ambiance of a private villa.
In a land renowned for its exotic flavors & spices, Sultan Palace offers a delectable beachfront retreat amid gardens perfumed with citronella and frangipani.
Impossing elegance and a cordiality of welcome that borrows its warmth in the welcoming smile of Zanzibar's people. Five Imperial Suites of 185 sqm with two queen sized Zanzibar beds, walk in wardrobes, twin showers & twin basins.
At Sultan Zanzibar Palaces' beach there's a sense of contentment that comes from the calm azure waters of the Ocean. A kaleidoscope of changing colours, a myriad of sounds and moments of pure silence to reconcile your soul.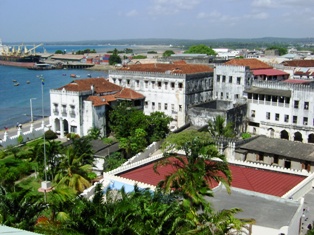 Location:
Sultan Zanzibar Palace is a splendid resort situated on the southeast coast of Zanzibar Island with beautiful sandy beaches, some 60 km from the airport or Zanzibar Stone Town.
Accommodation:
Sultan Palace has 15 cottages
4 Ocean Suites
6 Garden Suites
5 Imperial Suites
All the rooms have en-suite bathrooms, air-conditioning, ceiling fan, telephone, fridge, hair dryer, Mimi bars, safety deposit box and Television.
General facilities:
Restaurant with verandah
Bar
Swimming pool
Lounge
Aromatherapy massage
Baby-sitting services
Secretarial services
Room service
Laundry/valet services
Gift shop
Games room
Concierge and car rental desk
Parking

In summary, if you are looking for a flashy, glitzy resort with cutting edge facilities and gadgets, you probably would not enjoy a stay here. Similarly, there might be better places for families with young children - but for a honeymoon, romantic getaway, or a battery re-charge with lashings of old-school personal service and hospitality, you could do a lot worse. And though not marketed as such, it would be a spectacular place for exclusive use if you had 25 - 30 friends, deep pockets and a good (or not so good!) reason to celebrate.